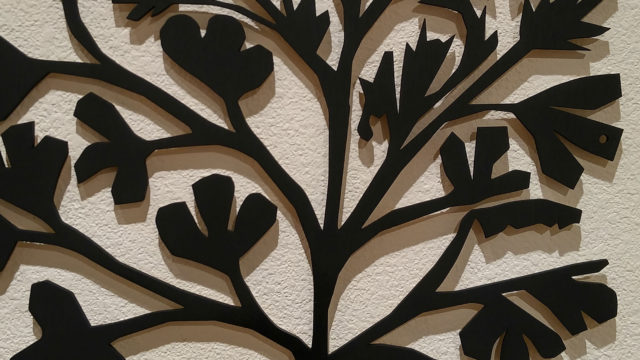 Medieval Botany: The Gardens of Ghafiqi and Dioscorides, Punctum Caecum series, 2016
above: The Ghafiqi Garden; detail
The Gardens of Ghafiqi and Dioscorides, Punctum Caecum series, 2016
De Materia Medica by Dioscorides, the 1 st c., Greek botanist, was one of the earliest scientific botanical manuscripts to be translated from Greek to Arabic. The Herbal of al-Ghafiqi manuscript was composed by the 12th century Andalusian physician and scholar Abu Ja`far al-Ghafiqi. These are the most remarkable medieval manuscripts on simple drugs and medicinal plants, their names and their visual and healing properties.
I create both silkscreen prints and site-specific installations using plants extracted from the pages of these two manuscripts. My silkscreen prints present each plant in rows to impart the idea of a garden. The shape and composition of my installations are inspired by the placements of the plants on the original pages of these manuscripts. In my installations, I imagine these plants in a garden, released from the pages of the manuscripts; I extract the plants' images and convert them into black and white silhouettes and print the original manuscripts' description texts on some of the forms. To create an impression of a garden of medicinal plants, I use paint, parchments, wood, threads, pins, cut-papers and Mylar. The lighter materials such as paper, parchment, Mylar and threads, create movements when a viewer passes by the installations similar to plants moving in the breeze. Medieval societies and medical practitioners seem to have had great appreciation for benefits of nature (specifically the plants that prevented or treated ailments). By contrast, in our modern world, we mainly rely on chemically manufactured substances.  I use actual pills and place them next to or on my plant forms as a reminder of our today's hyper-reliance on manufactured drugs. My garden installations not only highlight the significance of visual elements in early science of botany and medicine, but also offer an indirect criticism of today's commercial pharmaceutical practices as well as our own disconnect with nature.
Installations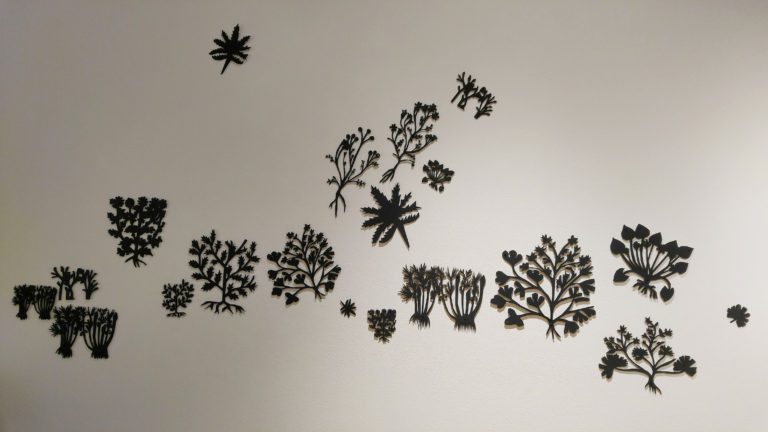 The Ghafiqi Garden, laser-cut wood and screws, 2016, 6 x 10 feet
Installation view, solo exhibition, California State University, Stanislaus, 2016
After Herbal of al-Ghafiqi, Botanical Manuscript, 12th c., Andalusia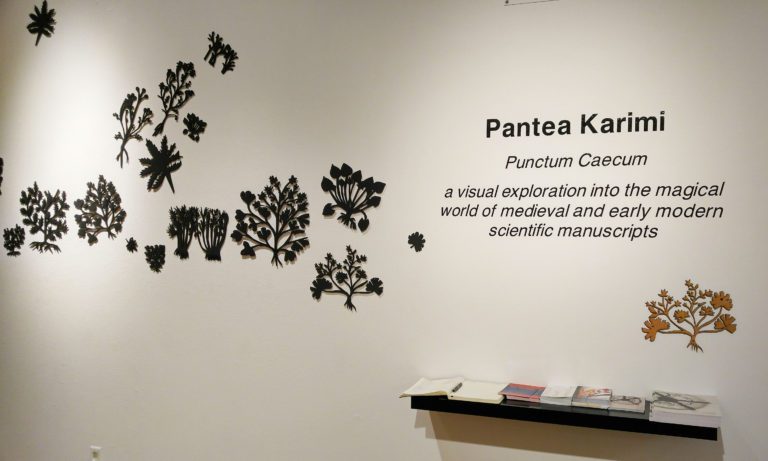 The Ghafiqi Garden, detail, installation view, solo exhibition, California State University, Stanislaus, 2016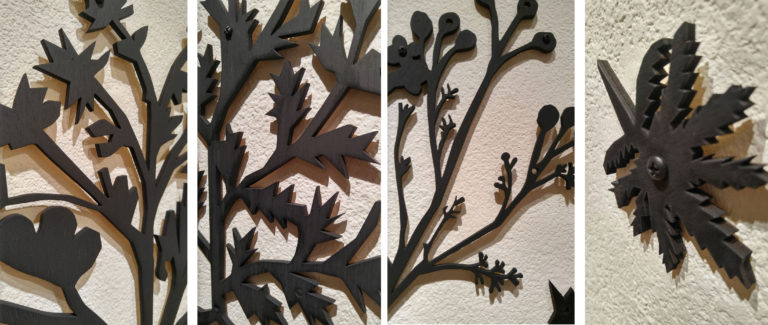 The Ghafiqi Garden, laser-cut wood and screws, detail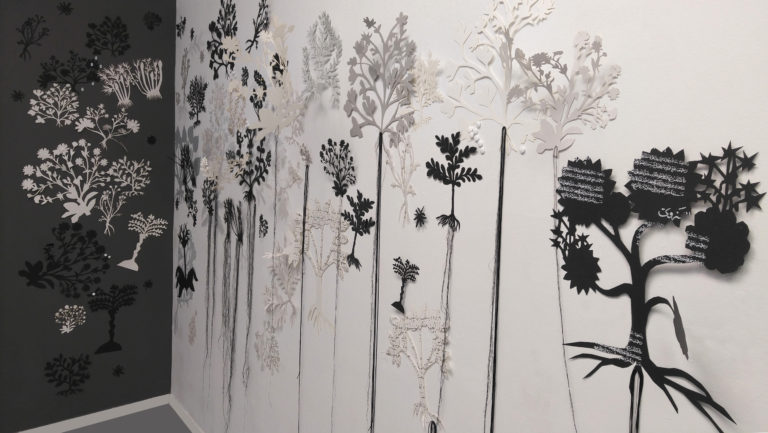 The Gardens of Ghafiqi and Dioscorides, 2017, cut-paper and Mylar, wood, pills, text, paint, pins and threads, 7 x 12 feet
In this installation I composed the garden using both scientists' botanical manuscripts' plants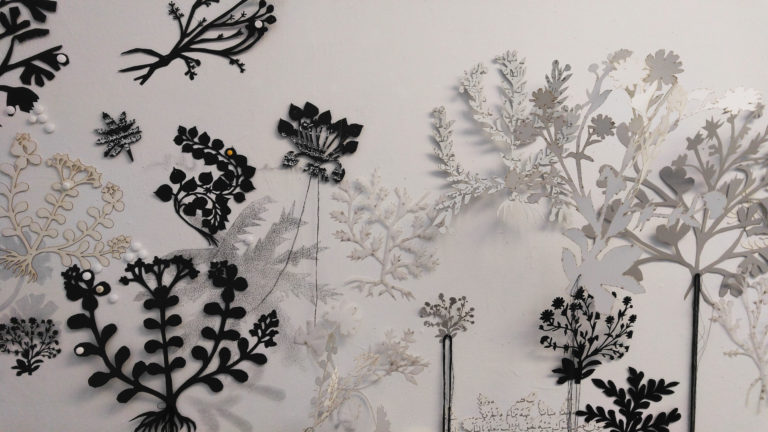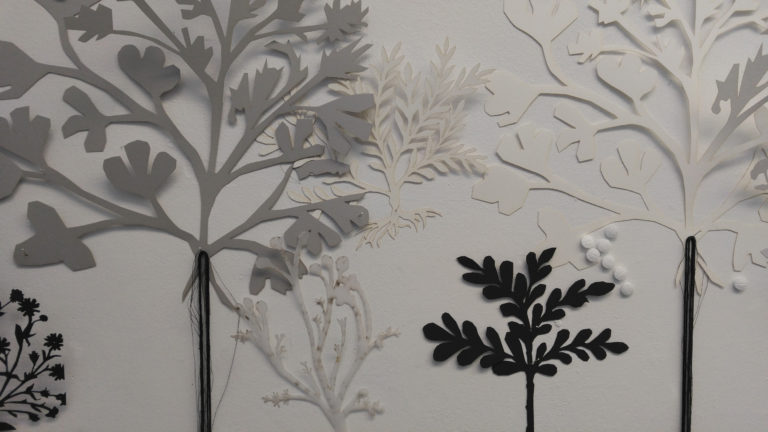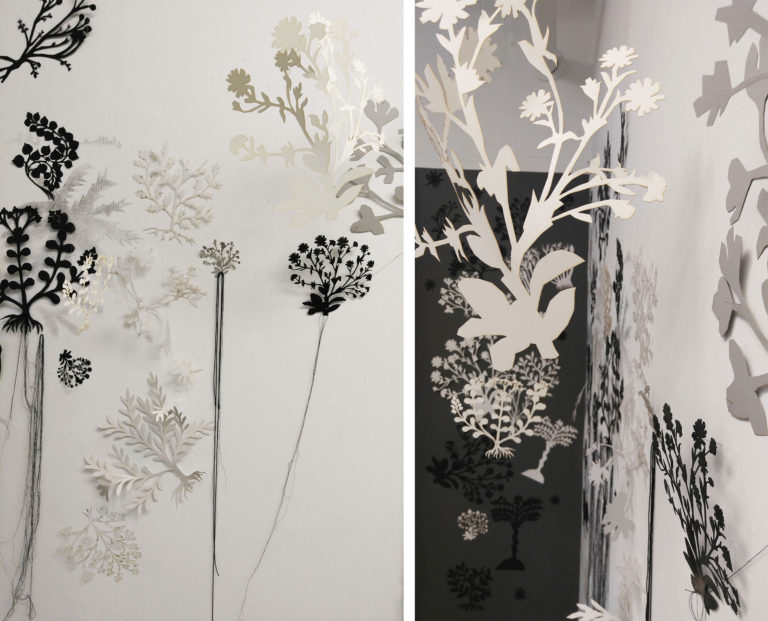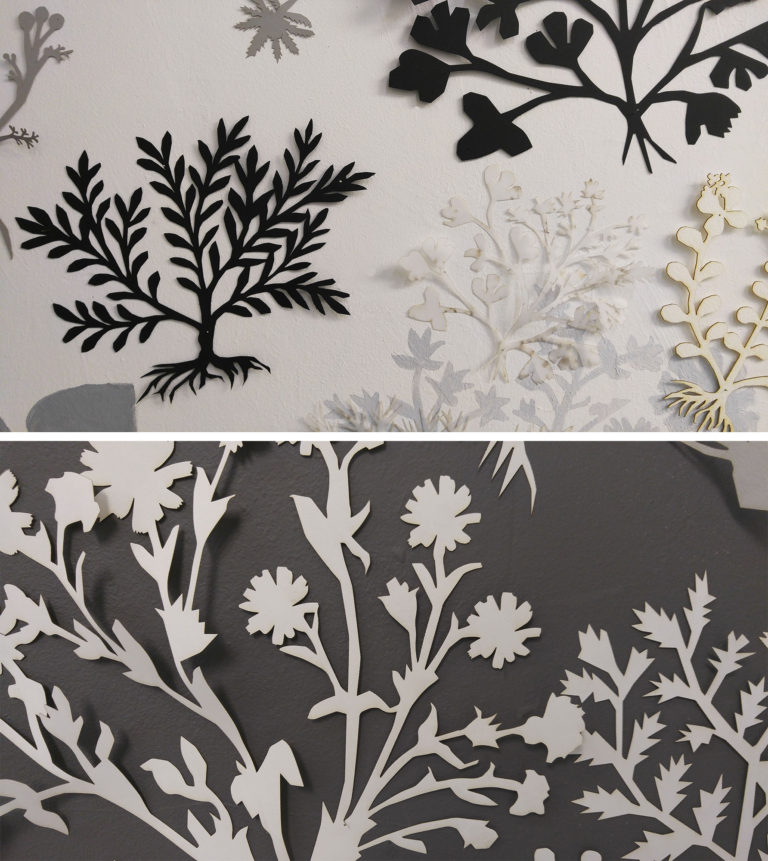 The Gardens of Ghafiqi and Dioscorides; detail
Dioscorides Garden, 2017, silkscreen on circle parchments, threads and pins, 4.5 x 10 feet
After De Materia Medica, the herbal manuscript by Dioscorides, 1st c.
Dioscorides' Leaves Garden, details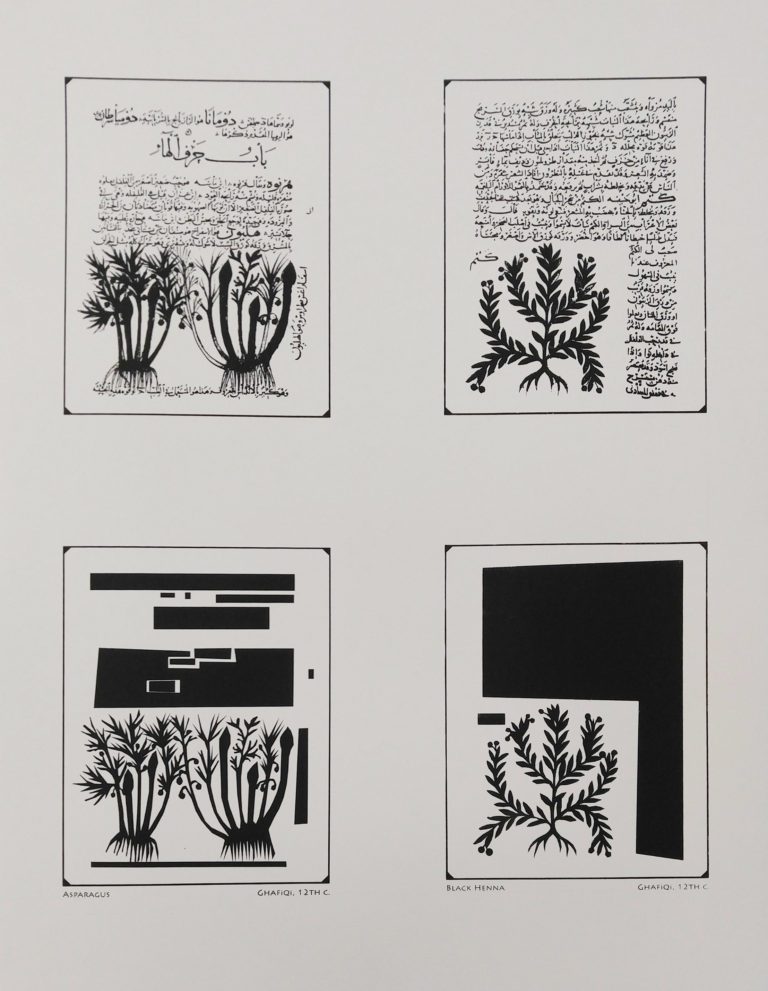 Asparagus and Black Henna, silkscreen on paper, 30″ x 20″
After Herbal of al-Ghafiqi, Botanical Manuscript, 12th c., Andalusia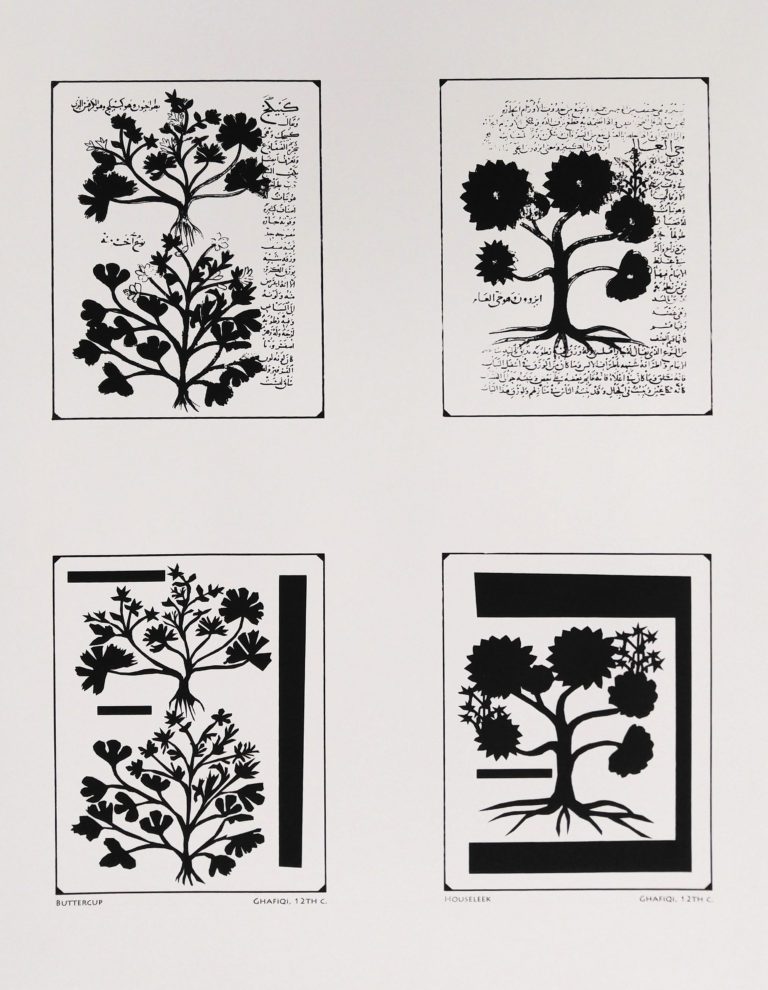 Buttercup and Houseleek, silkscreen on paper, 30″ x 20″
After Herbal of al-Ghafiqi, Botanical Manuscript, 12th c., Andalusia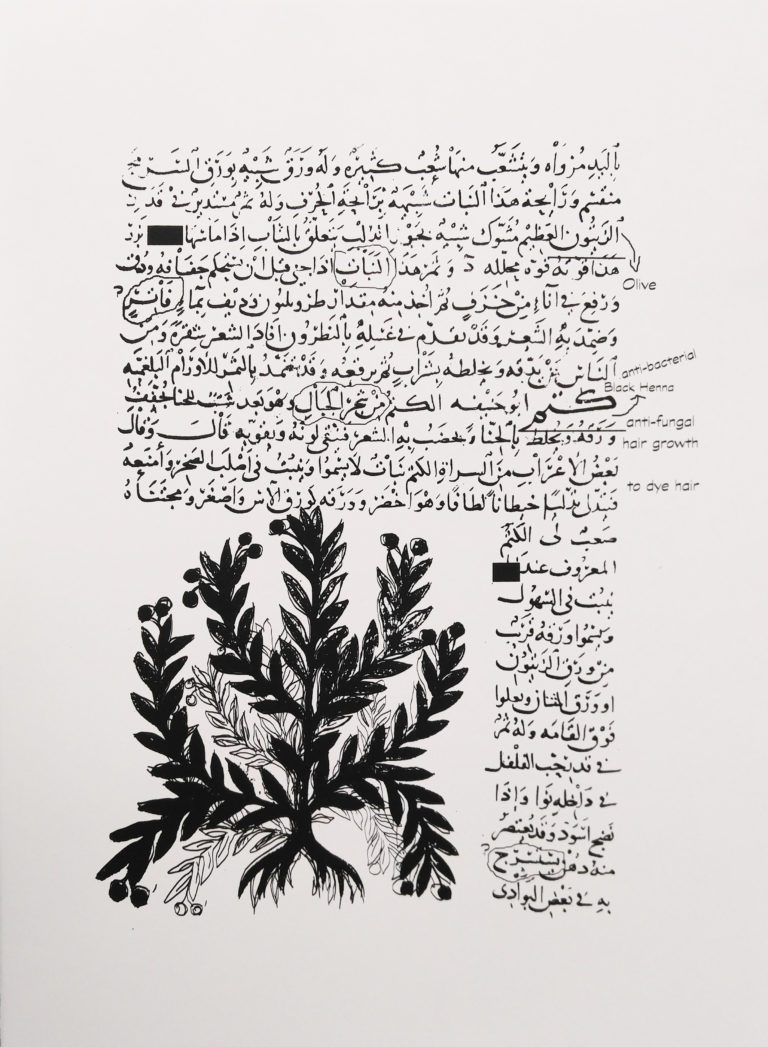 Black Henna, silkscreen on paper, 30″ x 20″
After Herbal of al-Ghafiqi, Botanical Manuscript, 12th c., Andalusia
Mixed-Media works
The Ghafiqi Plants, silkscreen on exotic wood pieces, dimensions variable, 2016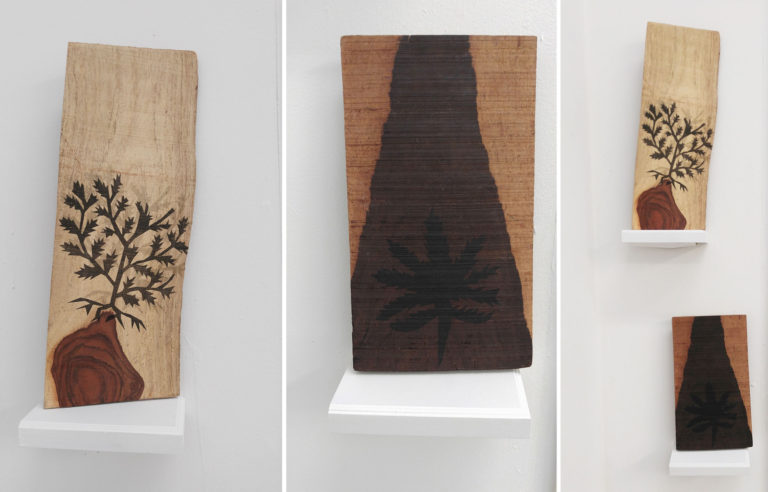 The Ghafiqi Plants; detail
Silkscreen on exotic wood pieces and shelves, 2016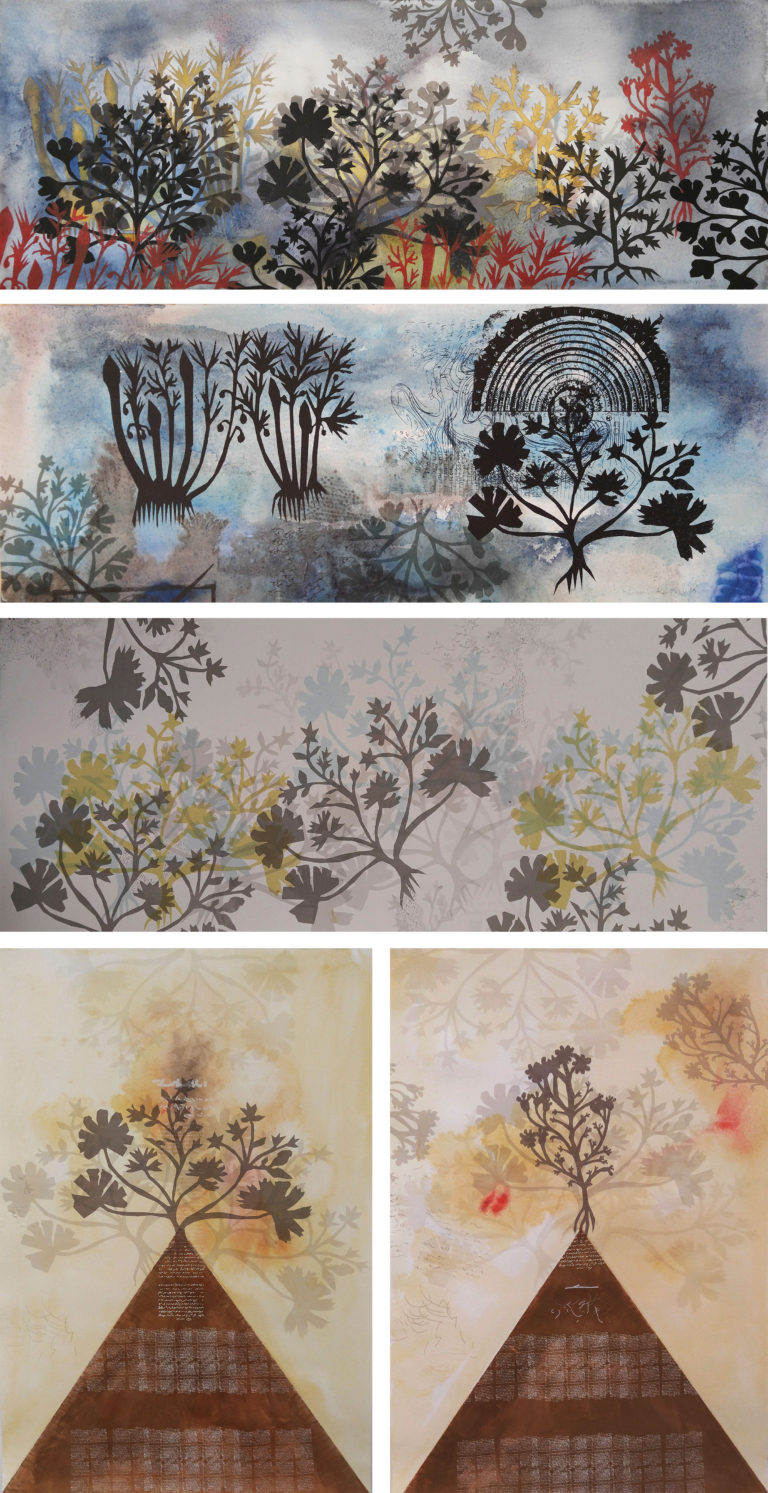 The Ghafiqi Garden i-iv, silkscreen, watercolor, acrylic and ink on paper, 2016, 11″x 30″  and  20″x 16″
The medieval plants that I printed in above works are: dinkel wheat (hulled wheat), wild celery, asparagus and chamomile
Research and Fellowship Residency:
I am a fellow-resident at Kala Art Institute in Berkeley for 6 months, Jan-July 2017.  I focus my research and art project on medieval botany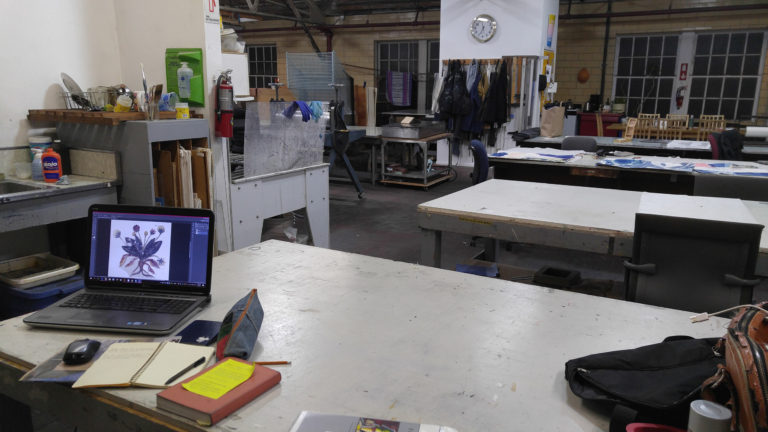 Kala Art Institute, Berkeley, CA, Jan 2017, my work station at their printmaking facility

Kala Art Institute, Berkeley, CA, Jan 2017, burning my screen: "botanical garden" stencil in the process of making
Botanical Volvelle in the process of making: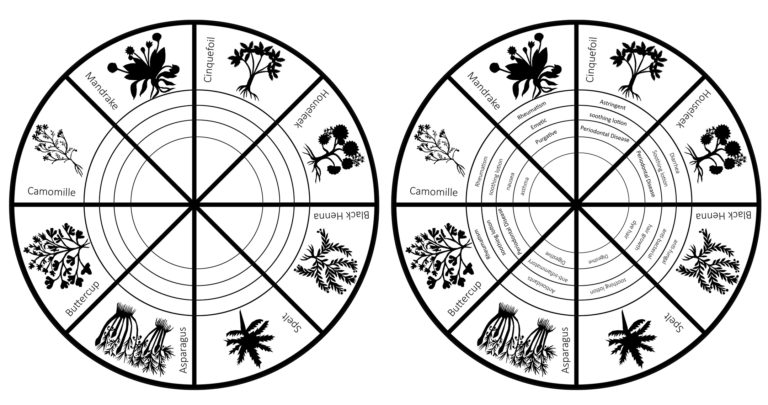 Diagrams 1&2, for making a Botanical Volvelle, 8 medieval plants and their healing characteristics, 2016-2017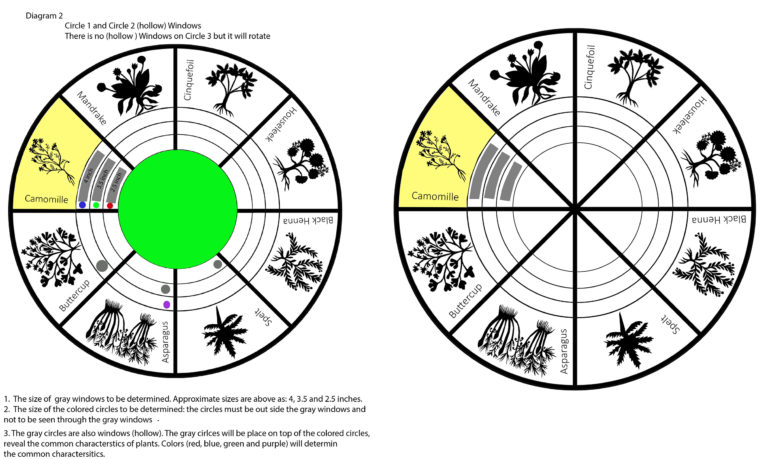 Diagrams 3&4, making a Botanical Volvelle, 8 medieval plants and their healing characteristics, 2016-2017
Original Pages of the Medieval Manuscripts: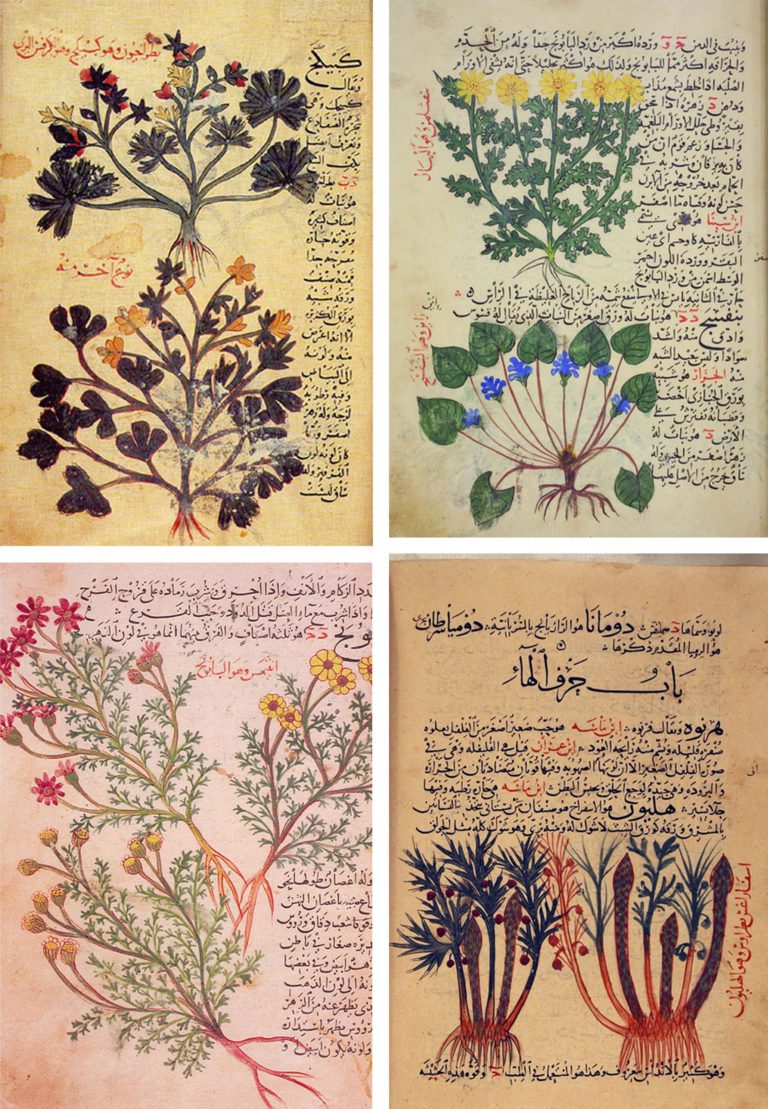 Pages of Herbal of al-Ghafiqi, Botanical Manuscript in Arabic, written by Abu Ja`far al-Ghafiqi, 12th c., Andalusia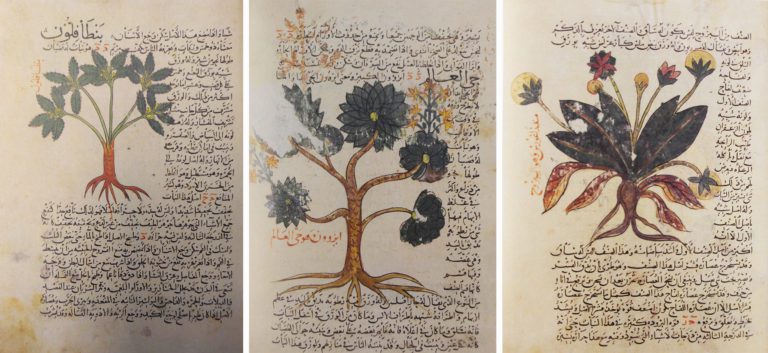 Pages of Herbal of al-Ghafiqi, Botanical Manuscript in Arabic, written by Abu Ja`far al-Ghafiqi, 12th c., Andalusia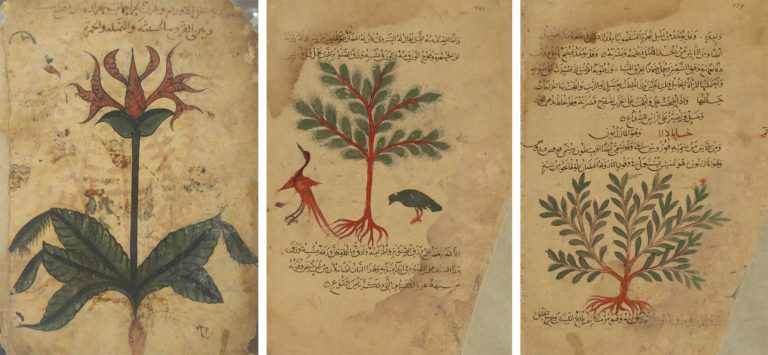 Pages of De Materia Medica, Botanical Manuscript in Arabic, originally written by Dioscorides, 1st c., Greece
De Materia Medica by Dioscorides was one of the earliest scientific botanical manuscripts to be translated from Greek to Arabic
These are leaves from an illustrated manuscript of the Arabic version of De Materia Medica, copied in the 7th c. and 13th c. in Iran
Images: Courtesy of The Walters Art Museum, Baltimore, USA, Aga Khan Museum, Toronto, Canada and Malek National Museum and Library, Tehran, Iran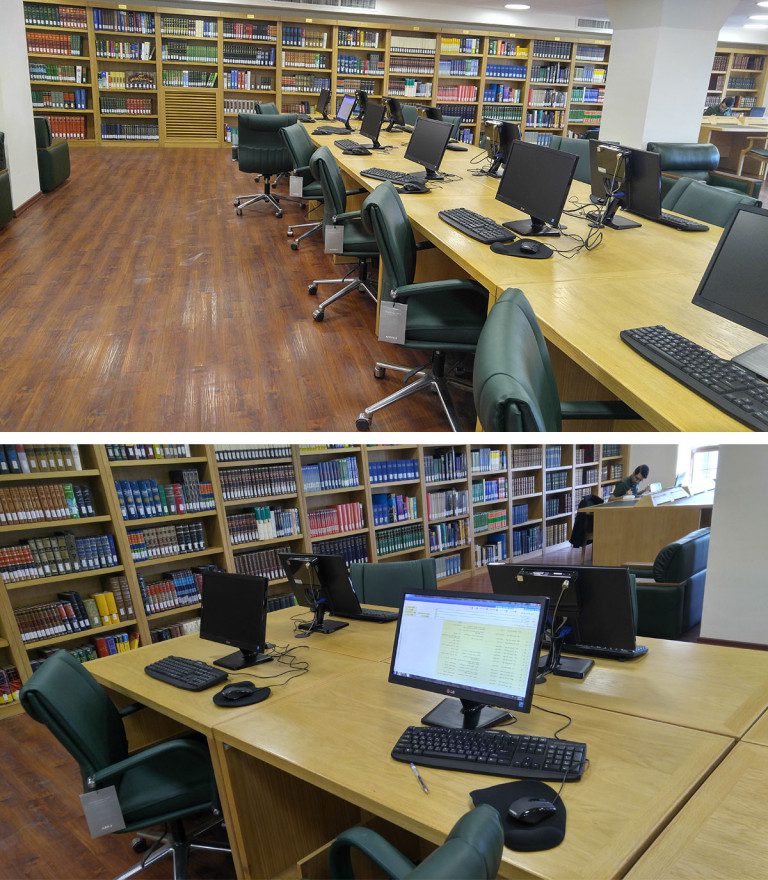 Malek Library, Tehran, Iran: researching Herbal of Al-Ghafiqi manuscript, Jan 2016