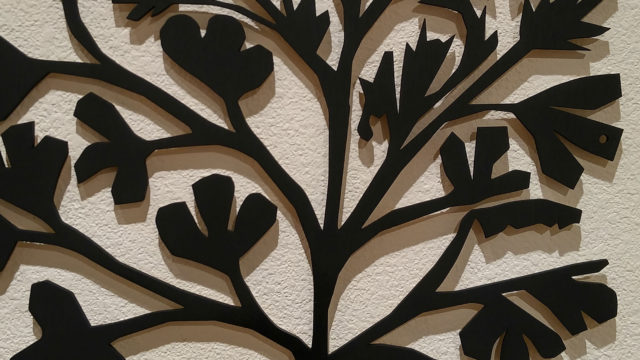 Medieval Medicinal Botany, Punctum Caecum series, 2016-2017
above: The Ghafiqi Garden; detail
Medieval Medicinal Botany, Garden Installations, Punctum Caecum series, 2016-2017
De Materia Medica by Dioscorides was composed by the 1 st century Greek botanist.  De Materia Medica was one of the earliest scientific botanical manuscripts to be translated from Greek to Arabic and therefore it was preserved. The Herbal of al-Ghafiqi manuscript was composed by the 12th century Andalusian physician and scholar Abu Ja`far al-Ghafiqi. These are the most remarkable medieval botanical manuscripts on medicinal plants, their names, their visuals and their healing properties.
Folding Gardens, 2017, is based on the prominent 12th c. medieval manuscript: the Herbal of al-Ghafiqi. Folding Gardens is an installation composed of 10 transparent silk organza strips suspended from the ceiling. The floral patterns on strips are inspired by the plants' images from the Herbal of al-Ghafiqi botanical manuscript. I printed the vertical garden compositions digitally on silk organza that are transparent and can be folded to become portable. The notion of carrying gardens of medicinal plants, that can be folded and opened on demand, is aimed to remind one of healing properties of nature and the importance of connectivity with the natural world in general. The installation is accompanied by wall shelves, sound of water fountain and an interactive Medicinal Herbal Volvelle (a wheel-chart). One shelf displays the folded version of strips and the other two display jars, containing medicinal plants' extracts. Visitors can select any jar and smell its aromatic content and interact with the Medicinal Herbal Volvelle to learn about the healing properties of eight plants. They are also encouraged to walk around the Folding Gardens to see the drawings up close. Such a sensual experience that simultaneously engages the senses of sight, hearing, touch and smell, again is meant to evoke the power of natural world.
On a personal level, this installation evokes one of the earliest memories of my childhood: my family has deep roots in the southern city of Shiraz, Iran. Shiraz is known for its tradition of using herbal medicine that is still a vital part of people's daily diet. The visual memories of many rows of herbal extract bottles on shelves at the Shiraz bazaar are still vivid to me. As a child I spent ample time shopping at the traditional drugstores in Shiraz with my grandmother, who firmly believed in the healing power of herbal medicine for all kinds of minor ailments. The Shirazis' obsession with the power of herbal medicine goes back to the medieval medical practices that recognized the benefits of natural medicine for the human body. Folding Gardens not only underscores the significance of visual elements in the early science of botany and medicine, but also draws attention to the contrast between natural medicines and chemically manufactured drugs.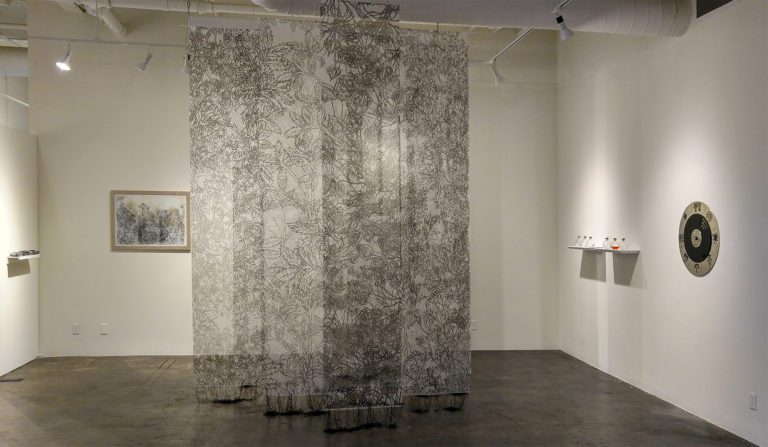 Folding Gardens, 2017, digital prints on silk organza, rods and threads, each strip: 10'x 24"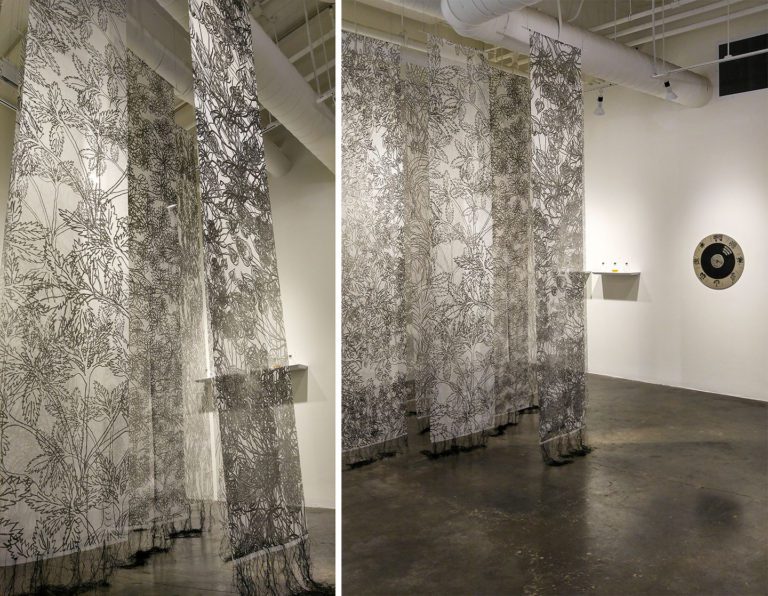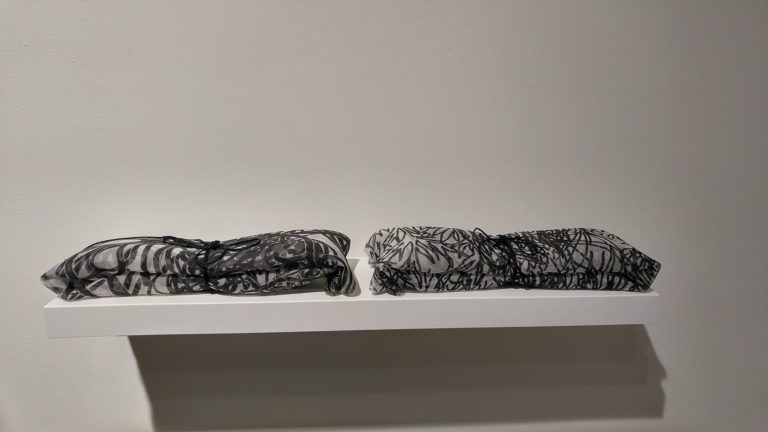 Folded strips, threads and shelf, 2017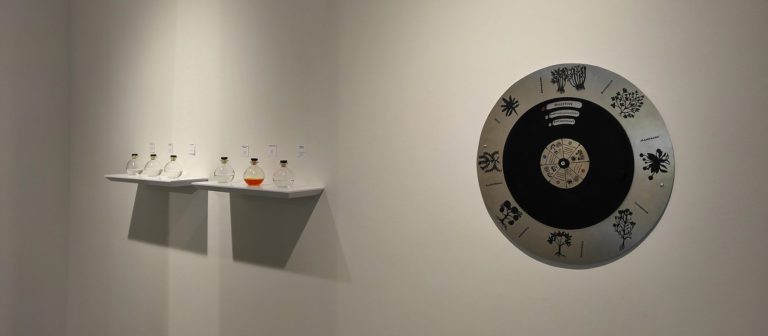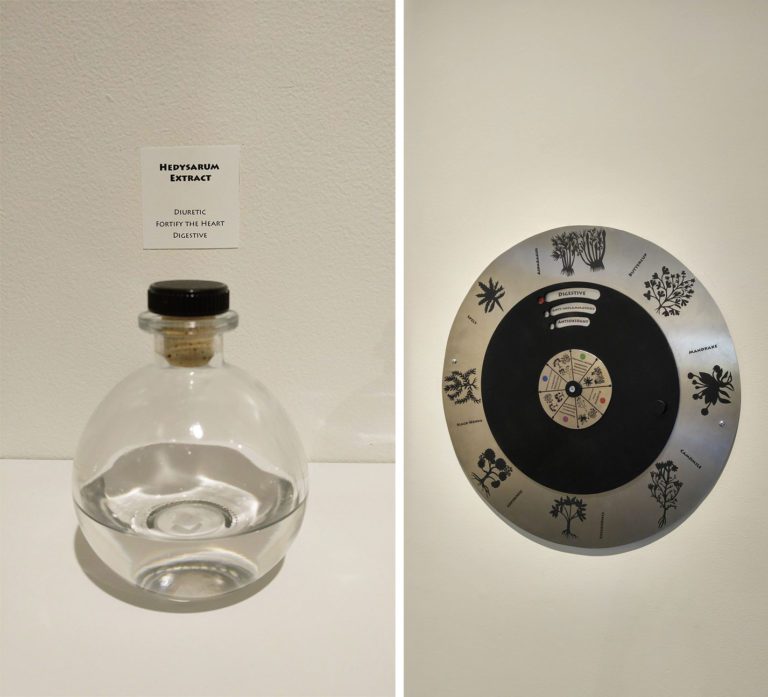 Medicinal Herbal Volvelle, 2017
Silkscreen on hand-cut aluminium, laser-cut wood and printed text, 24"x 24"
Rotate the black wheel, using the nob, to reveal the healing properties of each plant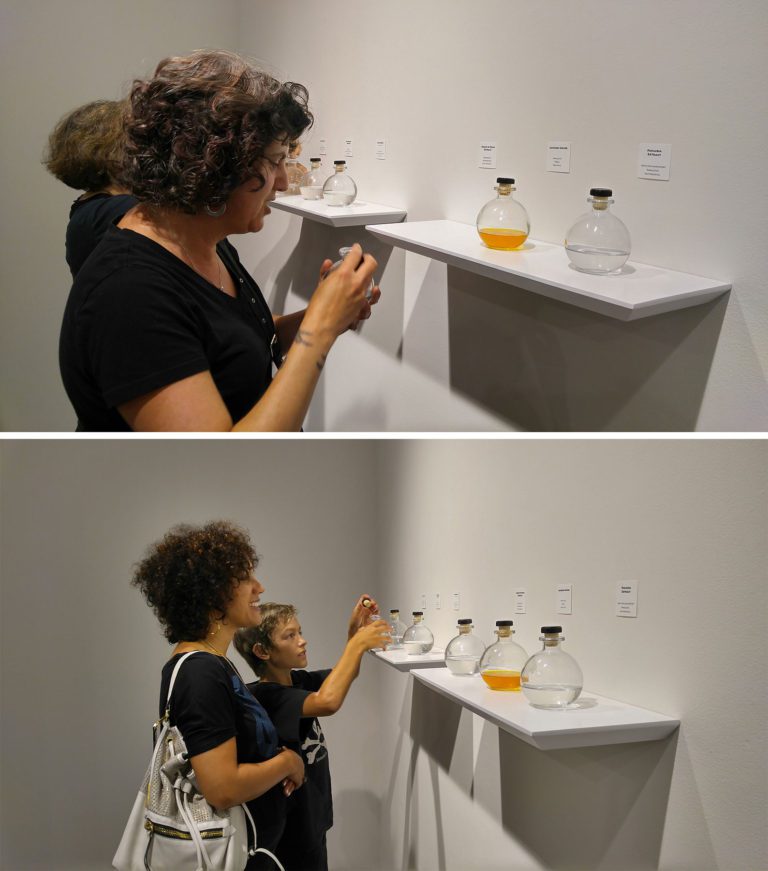 Aroma, 2017
Bottles, shelves, labels and plants' extracts, 7″x 24″x 8″
Open any bottle and smell the aroma. The labels explain the healing properties of each plant
Installation View at The Euphrat Museum of Art:
The Ghafiqi Garden: In my installations, I imagine these plants in a garden, released from the pages of the manuscripts; I extract the plants' images and convert them into silhouettes and print the original manuscripts' description texts on some of the shapes. I use paint, parchments, wood, threads, pins, cut-papers and Mylar. The lighter materials such as paper, parchment, Mylar and threads, create movements when a viewer passes by the installations similar to plants moving in the breeze. Medieval societies and medical practitioners seem to have had great appreciation for benefits of nature (specifically those plants that prevented or treated ailments). By contrast, in our modern world, we mainly rely on chemically manufactured substances.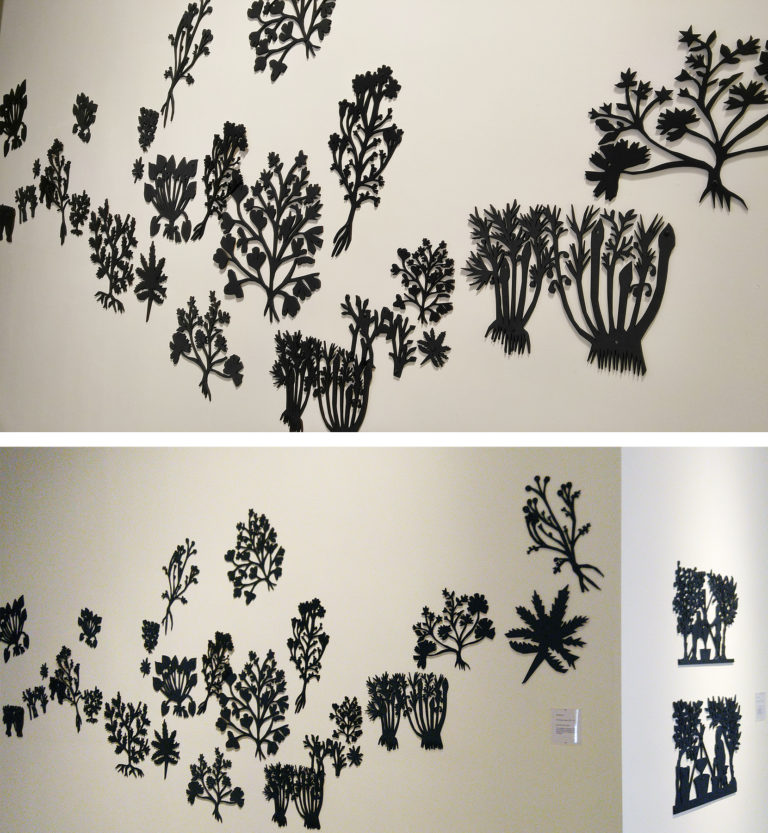 The Ghafiqi Garden, laser-cut wood and screws, 2017, 10 x 4 feet
Installation view, Euphrat Museum of Art at De Anza College, Cupertino, CA
After The Herbal of al-Ghafiqi, Botanical Manuscript, 12th c., Andalusia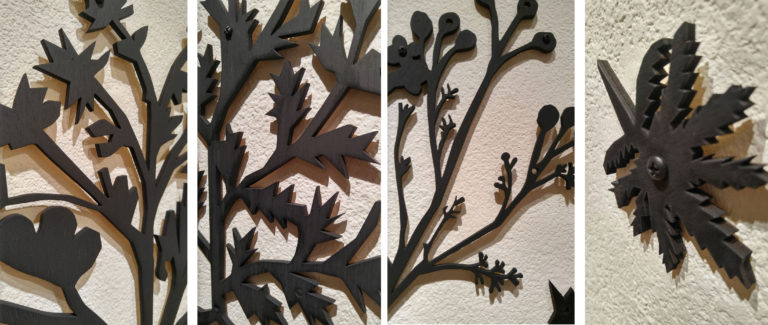 The Ghafiqi Garden, detail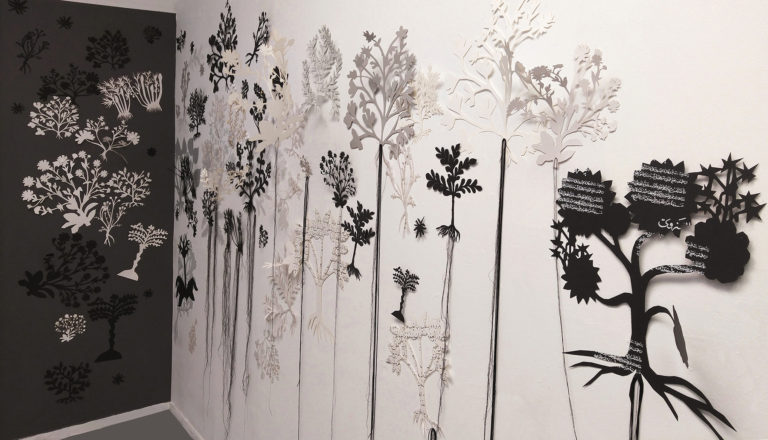 The Garden of Ghafiqi and Dioscorides, 2017, cutout-paper and Mylar, wood, text, paint, pins and threads, 7 x 12 feet
In this installation I composed the garden using plants from both scientists' botanical manuscripts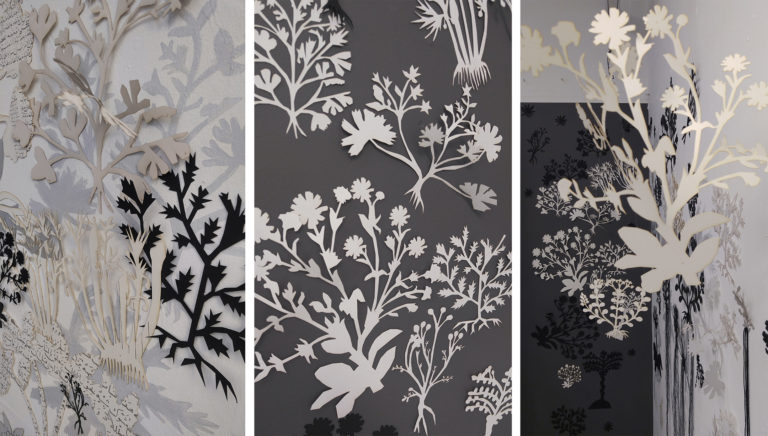 The Garden of Ghafiqi and Dioscorides; detail
Collaborative Virtual Reality Project
Healing Garden, 2017, is a collaborative Virtual Reality project. I reconstructed a medieval medicinal botanical garden after the Alhambra Palace's gardens in Andalusia, Spain. Andalusia was the birth place of The Herbal of al-Ghafiqi manuscript. People, entering the VR Healing Garden environment, take the medicinal plants and arrange them in the plants' beds to create a virtual healing garden. The black silhouettes of the plants are modeled after my screen-printed images on paper.
Healing Garden, 2017, 3-d modeling for Virtual Reality
Concept and Garden Design by Pantea Karimi, 3-D Modeling by Pedram Karimi and VR Interaction Design by Cyril Zabala
Shelf Garden is an installation of medieval medicinal plants in vases on a pharmacy pusher-kit shelf with a lighting system for horticulture of the plants. Shelf Garden addresses an indirect criticism of today's commercial pharmaceutical practices and the current human condition in relation to commercial drugs as well as our own growing disconnect with nature. This installation also offers an approach to healthy Placemaking and public engagement with natural elements and their conversion process in an urban life setting.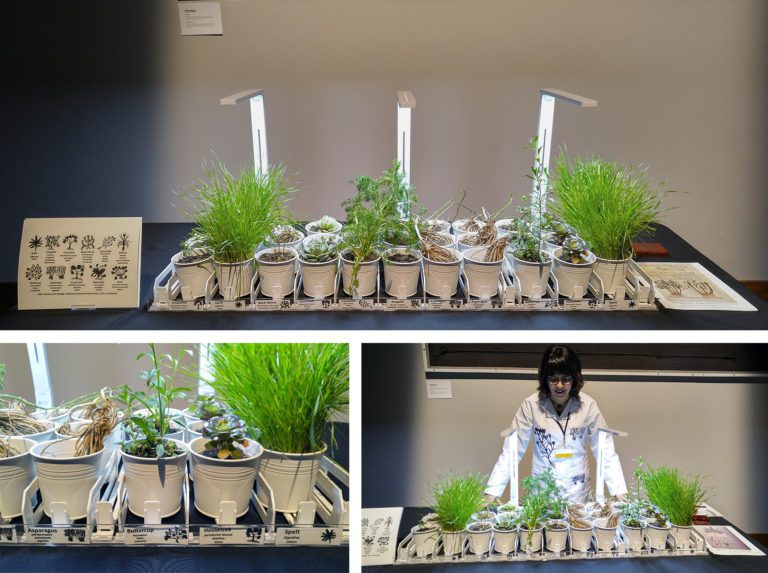 Shelf Garden, 2017, medieval plants in vases, pharmacy pusher-kit shelf, lights, labels, 18″x 48″x 14″ and hand-printed lab coat
The 4th L.A.S.T Festival & Exhibition, Hammer Theater Gallery, San Jose, CA, April 7 & 8, 2017
Research and Fellowship Residency at Kala Art Institute:
My fellowship residency at Kala Art Institute in Berkeley, Jan-July 2017, focused on medieval botany. I explored ideas of creating medieval medicinal botanical gardens both in installation and prints.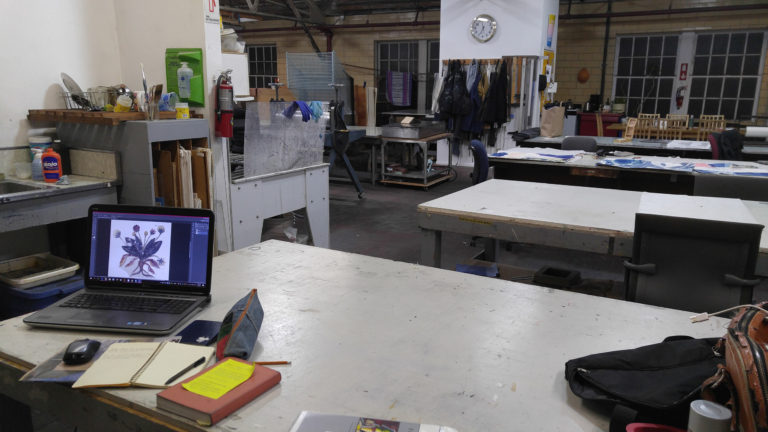 Kala Art Institute, Berkeley, CA, printmaking facility, Jan 2017, my work station

Kala Art Institute, Berkeley, CA, Jan 2017, burning my screen: botanical garden stencil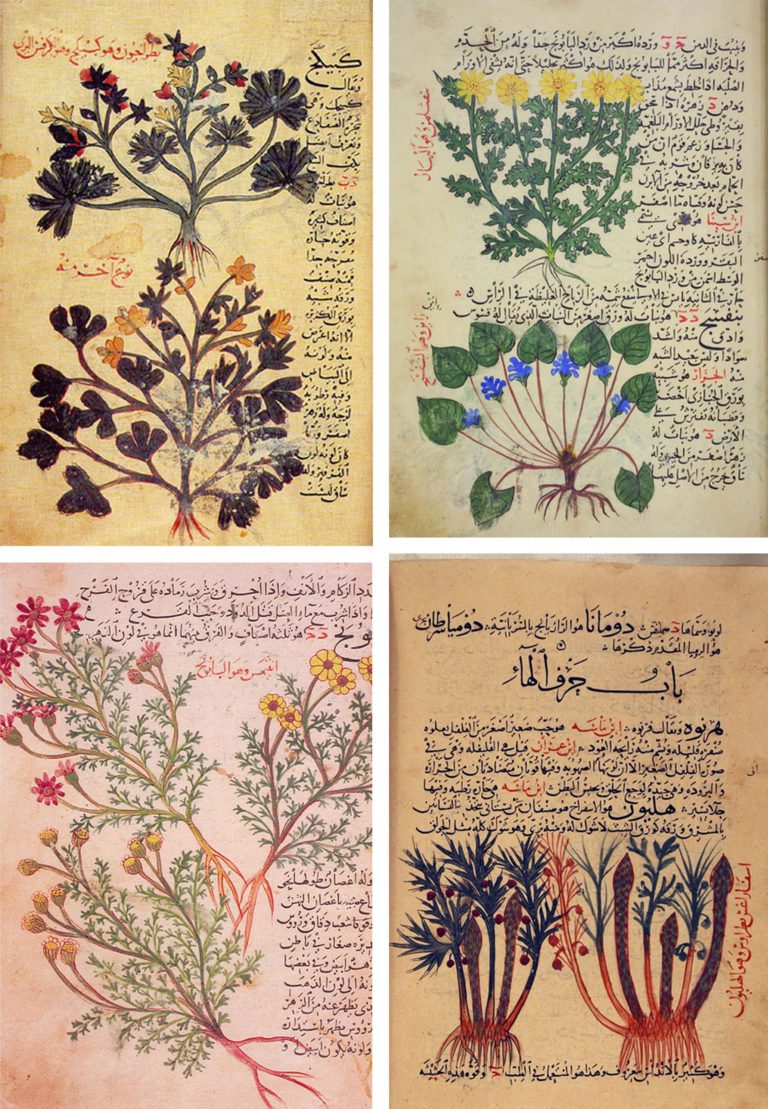 Pages of Herbal of al-Ghafiqi, Botanical Manuscript in Arabic, written by Abu Ja`far al-Ghafiqi, 12th c., Andalusia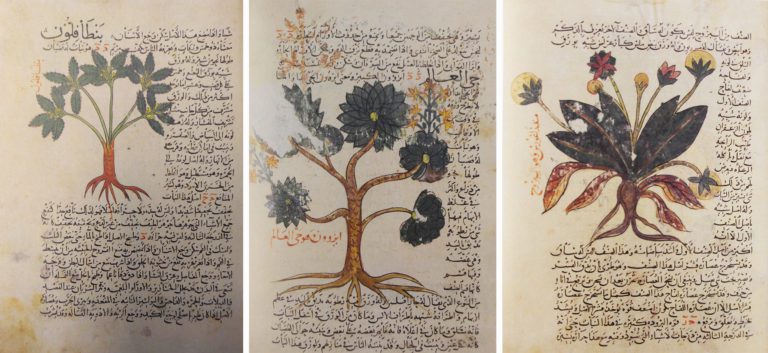 Pages of Herbal of al-Ghafiqi, Botanical Manuscript in Arabic, written by Abu Ja`far al-Ghafiqi, 12th c., Andalusia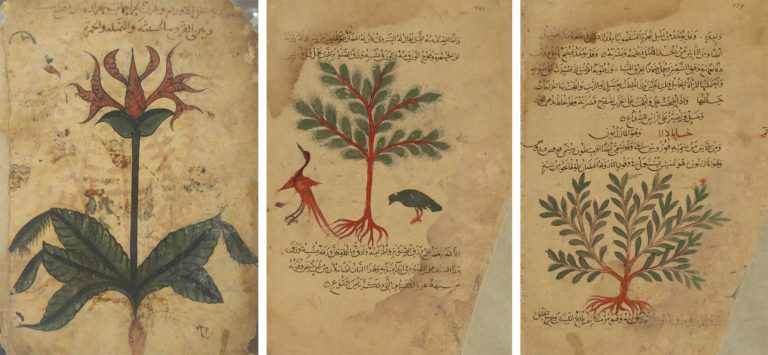 Pages of De Materia Medica, Botanical Manuscript in Arabic, originally written by Dioscorides, 1st c., Greece
De Materia Medica by Dioscorides was one of the earliest scientific botanical manuscripts to be translated from Greek to Arabic
These are leaves from an illustrated manuscript of the Arabic version of De Materia Medica, copied in the 7th c. and 13th c. in Iran
Images: Courtesy of The Walters Art Museum, Baltimore, USA, Aga Khan Museum, Toronto, Canada and Malek National Museum and Library, Tehran, Iran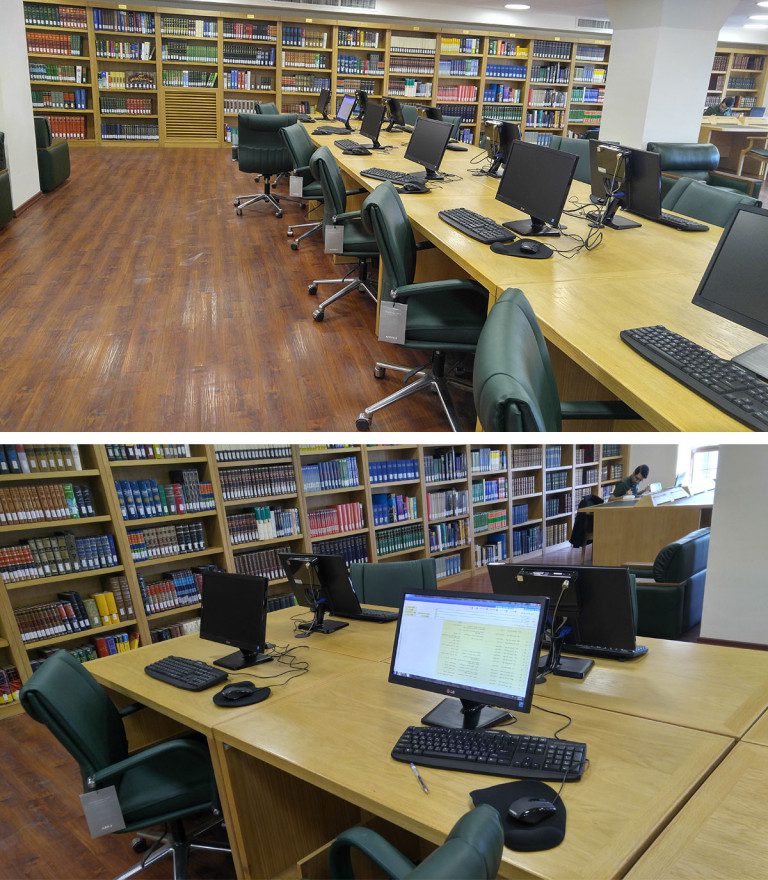 Malek Library, Tehran, Iran: researching Herbal of Al-Ghafiqi manuscript, Jan 2016