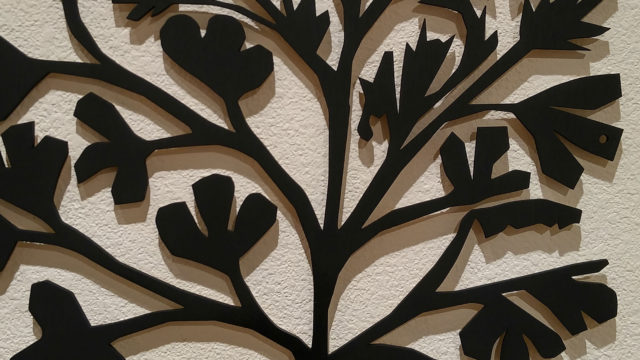 Medieval Medicinal Botany, Silhouette Installations
Buttercup plant, detail
Medieval Botany, Silhouette Installations, 2017-2019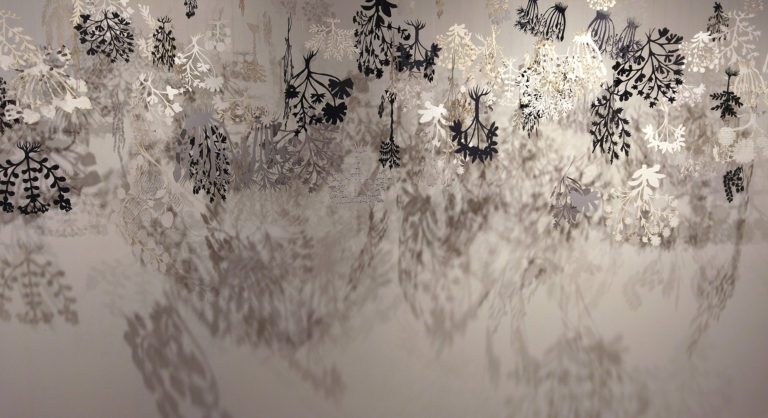 Suspended Healing Garden, 2019
Cutout-papers, printed text, threads and rods, 5 feet x15 feet x 16 inches
Installation view at Root Division, SF, CA, 2019
Suspended Healing Garden evokes memories from my upbringing in the city of Shiraz, Iran, known for its herbal medicine tradition. As a child, I spent ample time browsing through the traditional drugstores in Shiraz with my grandmother who firmly believed in the healing power of herbal medicine for all kinds of minor physical and emotional ailments.  The plants in Suspended Healing Garden are modeled after medicinal plants depicted in the twelfth-century Arabic botanical manuscript, The Herbal of Al-Ghafiqi. The inverted portrayal of plants is a metaphor for my life as an immigrant; once uprooted, life becomes suspended and things turn upside-down. It takes years to adjust and heal.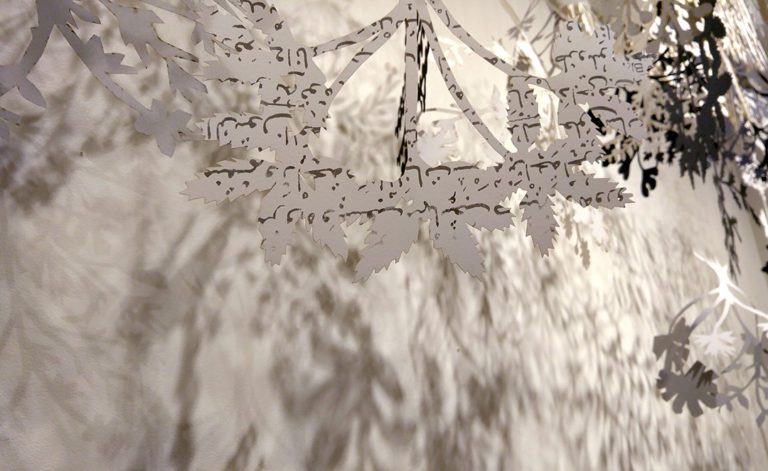 Suspended Healing Garden, detail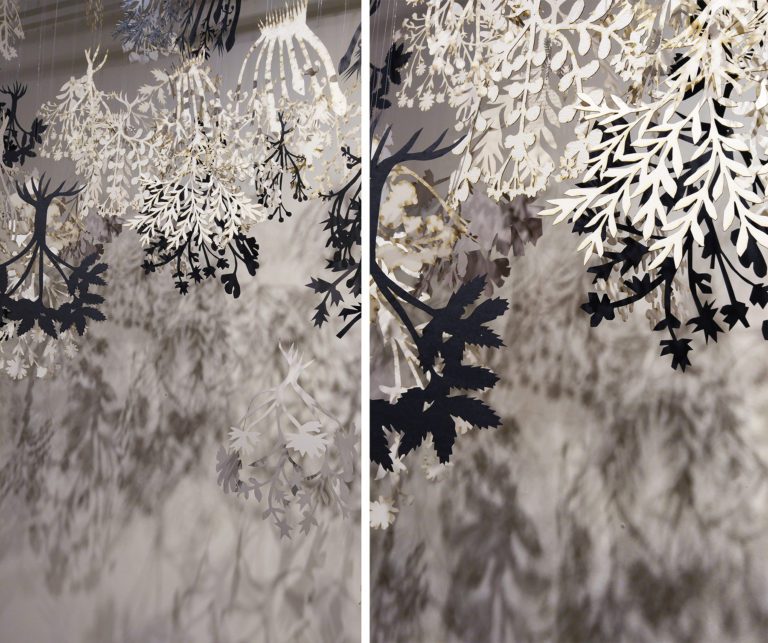 Suspended Healing Garden, detail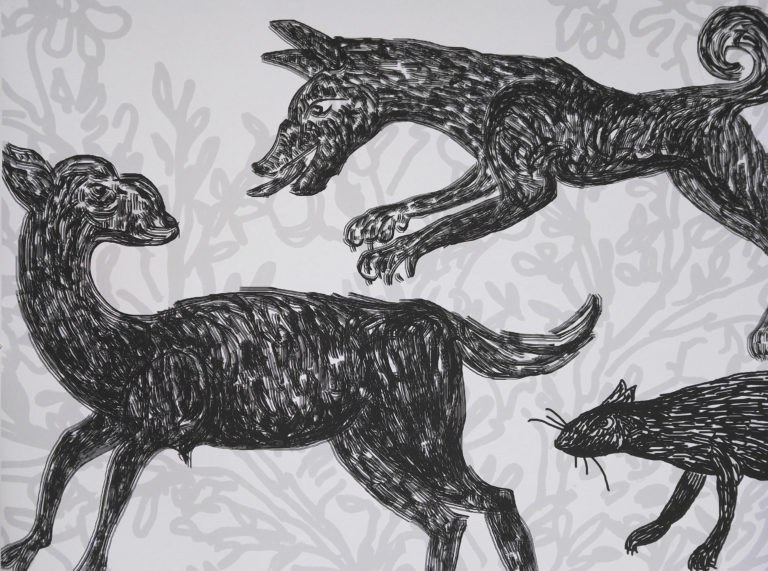 The Chase in Chamomile Garden, 2019
Digital Illustration on Fabric (digital print on metal is available)
3 x 4 feet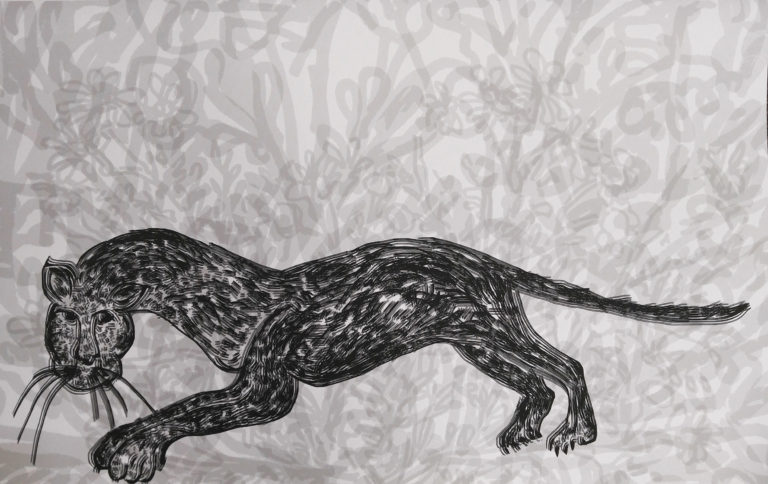 Leopard in Chamomile Garden, 2019
Digital Illustration on Fabric (digital print on metal is available)
22 x 36 inches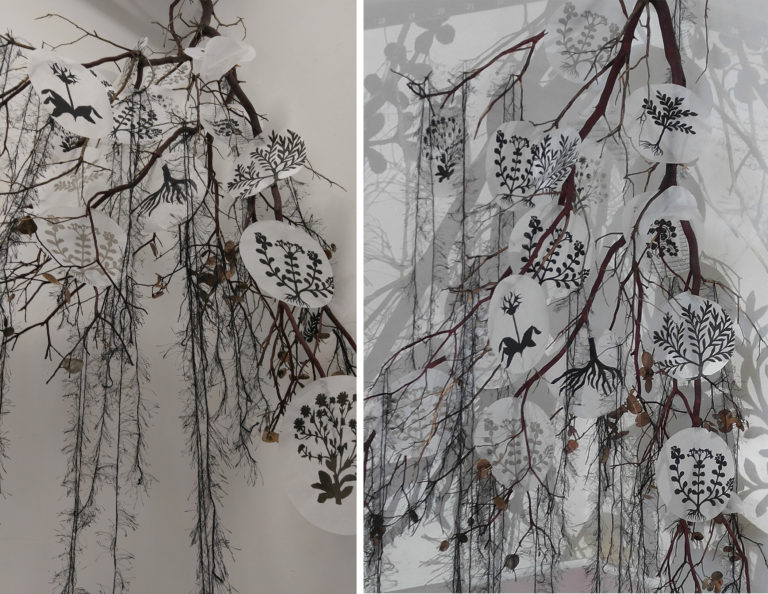 Tree of Knowledge, 2017, branch, silk threads, silkscreen on parchments and video projection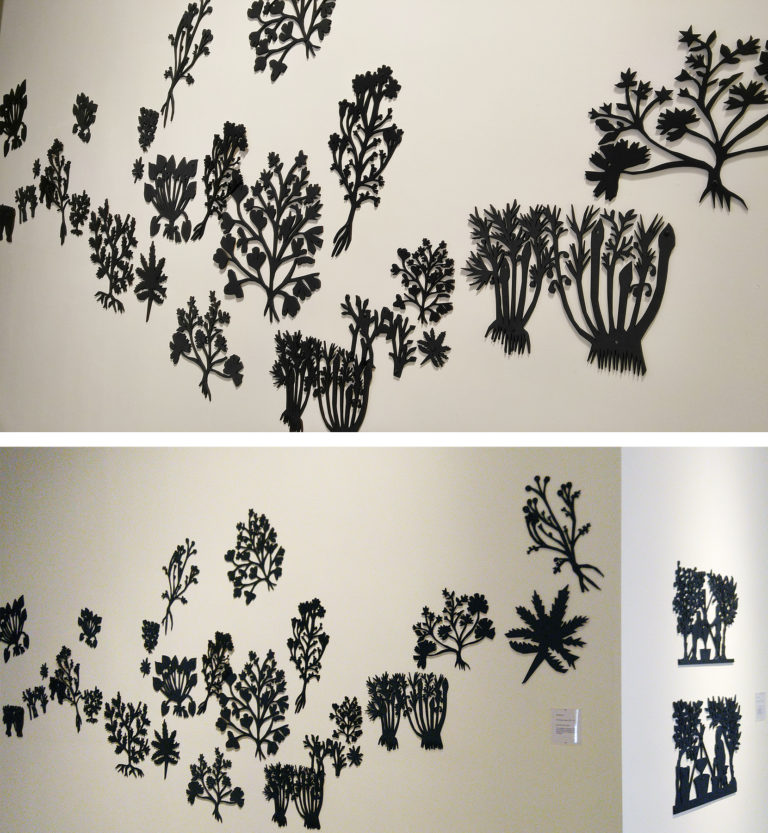 Wall Garden, laser-cut wood and screws, 2017, 10 x 4 feet
Installation view at Euphrat Museum of Art at De Anza College, CA
After The Herbal of al-Ghafiqi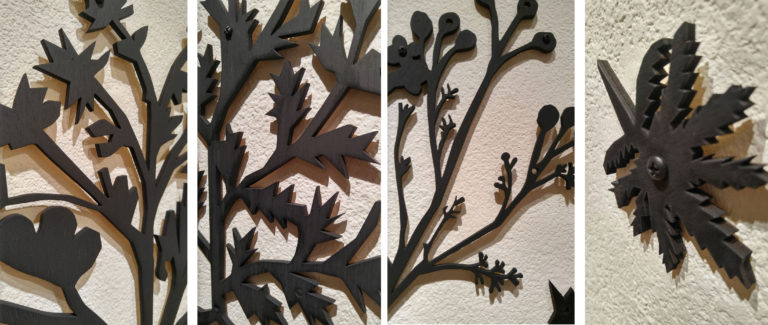 Wall Garden, detail
Research
De Materia Medica by Dioscorides was composed by the 1 st century Greek botanist, which was one of the earliest scientific botanical manuscripts to be translated from Greek to Arabic and therefore it was preserved. The Herbal of al-Ghafiqi manuscript was composed by the 12th century Andalusian physician and scholar Abu Ja`far al-Ghafiqi. These are the most remarkable medieval botanical manuscripts on medicinal plants, their names, their visuals and their healing properties. Medieval societies and medical practitioners had great appreciation for benefits of nature, specifically those plants that prevented or treated ailments. In medieval palaces such as Alhambra in Andalusia, gardens of medicinal plants were created and benefits of plants were carefully recorded in manuscripts.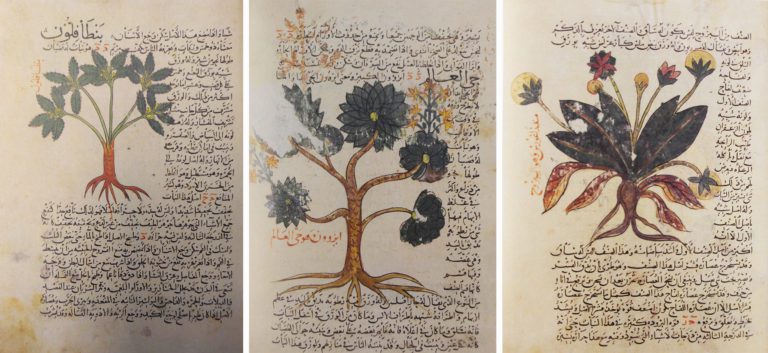 Pages of Herbal of al-Ghafiqi, Botanical Manuscript in Arabic, written by Abu Ja`far al-Ghafiqi, 12th c., Andalusia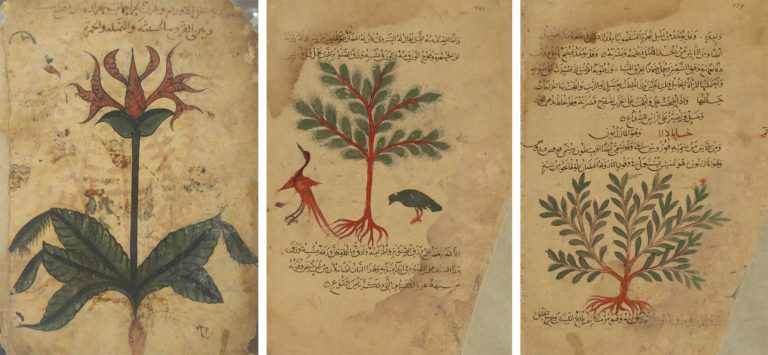 Pages of De Materia Medica, Botanical Manuscript in Arabic, originally written by Dioscorides, 1st c., Greece
De Materia Medica by Dioscorides was one of the earliest scientific botanical manuscripts to be translated from Greek to Arabic
These are leaves from an illustrated manuscript of the Arabic version of De Materia Medica, copied in the 7th c. and 13th c. in Iran
Images: Courtesy of The Walters Art Museum, Baltimore, USA, Aga Khan Museum, Toronto, Canada and Malek National Museum and Library, Tehran, Iran