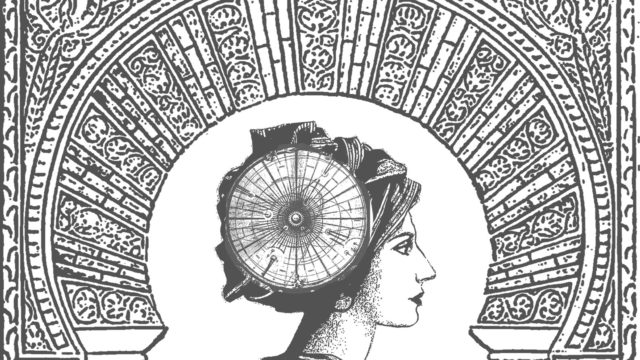 The Forgotten Women of Science
The Forgotten Women of Science, 2019
The Forgotten Women of Science features lesser-acknowledged female scientists, from ancient times to the nineteenth century, and highlights their contributions to science. History shows that there were many powerful, intelligent and professional women in a wide range of scientific fields. These women did not just assume marginalized roles in the male-dominated fields of science; they were also pioneers and generators of cutting-edge ideas. The Forgotten Women of Science started as a project in mid-2018 when Pantea Karimi was invited to create a piece about the #MeToo movement for an exhibition. Through ideas, images, and texts, Karimi highlights many female scientists and their achievements.
The Forgotten Women of Science is currently under production. The solo exhibition opens on Jan 19, 2020, at the San Jose Museum of Quilts & Textiles.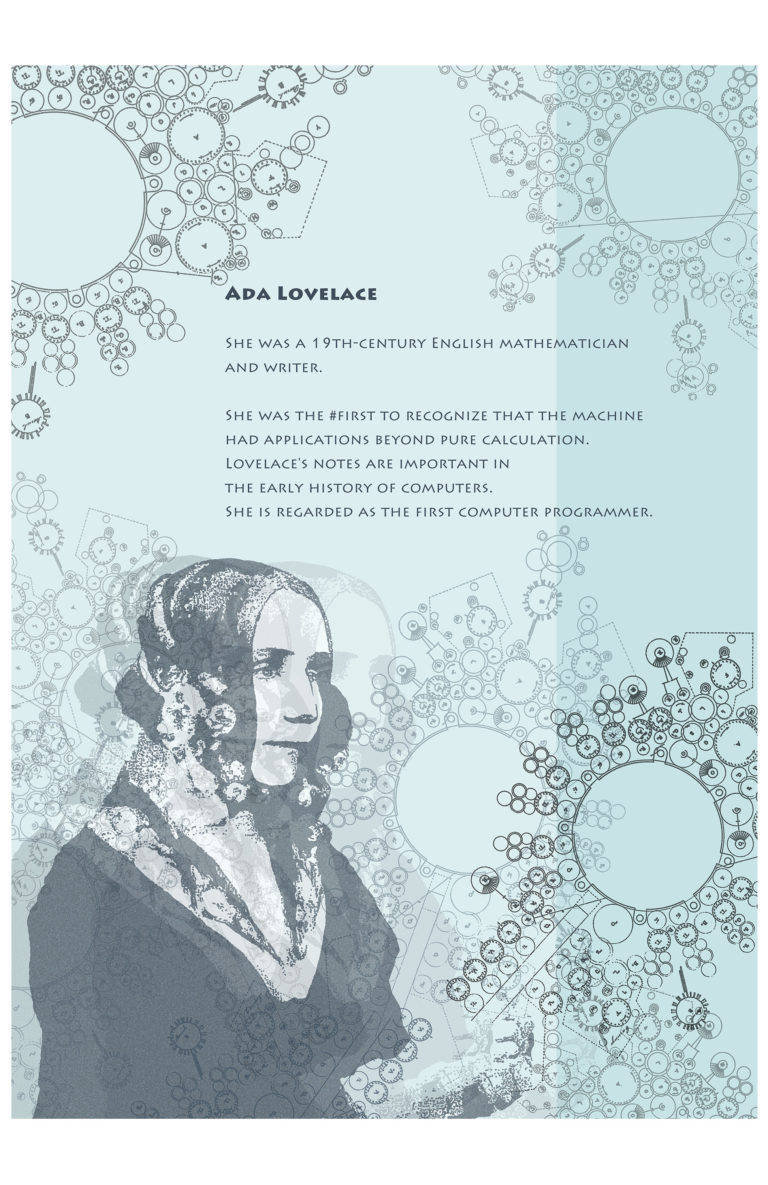 #Ada Lovelace, 2019, digital illustration and print on fabric
She was a 19th c. English mathematician and writer. She was #the first to recognize that the machine had applications beyond pure calculation. Lovelace's notes are important in the early history of computers. She is regarded as #the first computer programmer.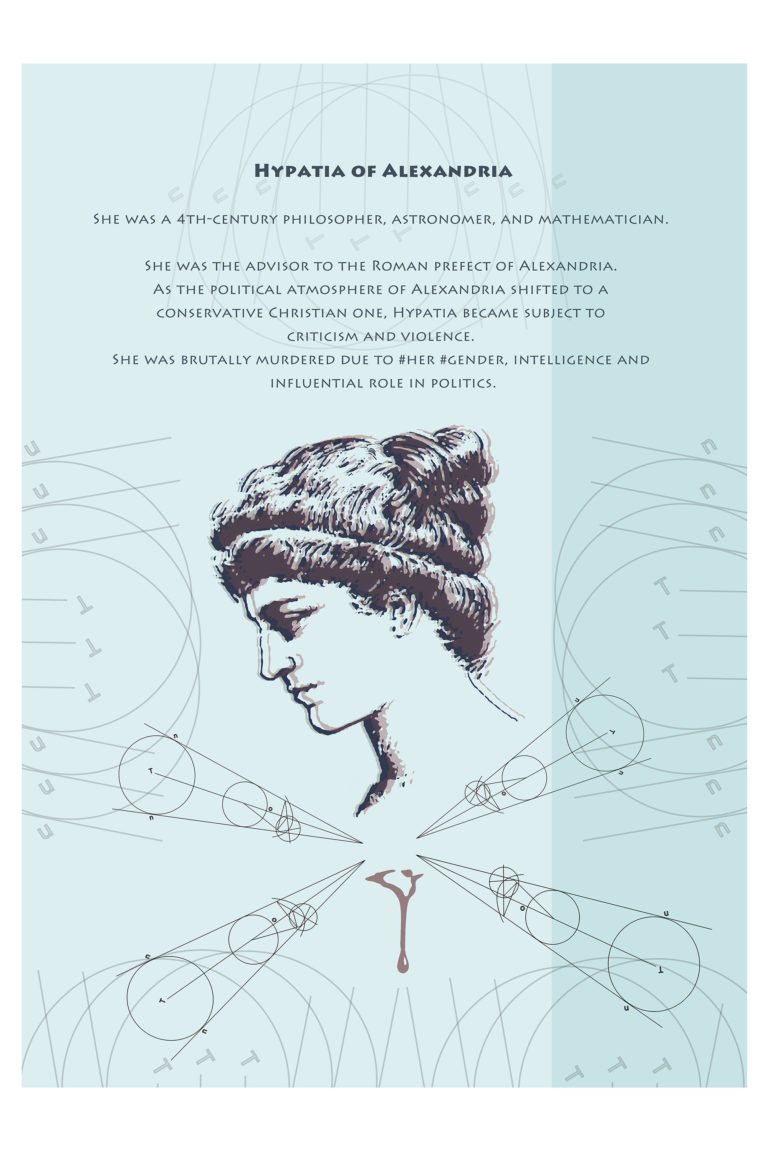 #Hypatia, 2019, digital illustration and  print on fabric
The peice features Hypatia  and the mathematical diagrams that are targeting her neck, as a metaphor for her death due to her intelligence.
Description: #Hypatia, depicts Hypatia of Alexandria, a philosopher, astronomer, and mathematician. Hypatia was the advisor to the Roman prefect of Alexandria. As the political atmosphere of Alexandria shifted from a relatively open society to a conservative Christian one, Hypatia became subject to criticism and violence. Eventually, she was brutally murdered by a mob of Christian monks, who accused her of preventing the reconciliation between the bishop of Alexandria and prefect. In the twentieth century, Hypatia became seen as an icon for women's rights and a precursor to the feminist movement.

#Mary Ward, 2019, digital illustration and print on fabric
Description: Mary Ward was a 19th century Anglo-Irish naturalist, avid amateur astronomer, microscopist, author and artist. At the time in Ireland, universities and most scientific societies would not accept women but she was determined and persistent in pursuit of knowledge. She lacked formal training in science but corresponded with universities and scientists to obtain information. She wrote popular works including The Microscope Teachings, published in 1869, which its third edition is owned by the MIT. This manuscript placed her among the earliest women to publish in such fields. All of the illustrated plates in her manuscripts were produced from Ward's own drawings, showcasing her artistic skill and ability.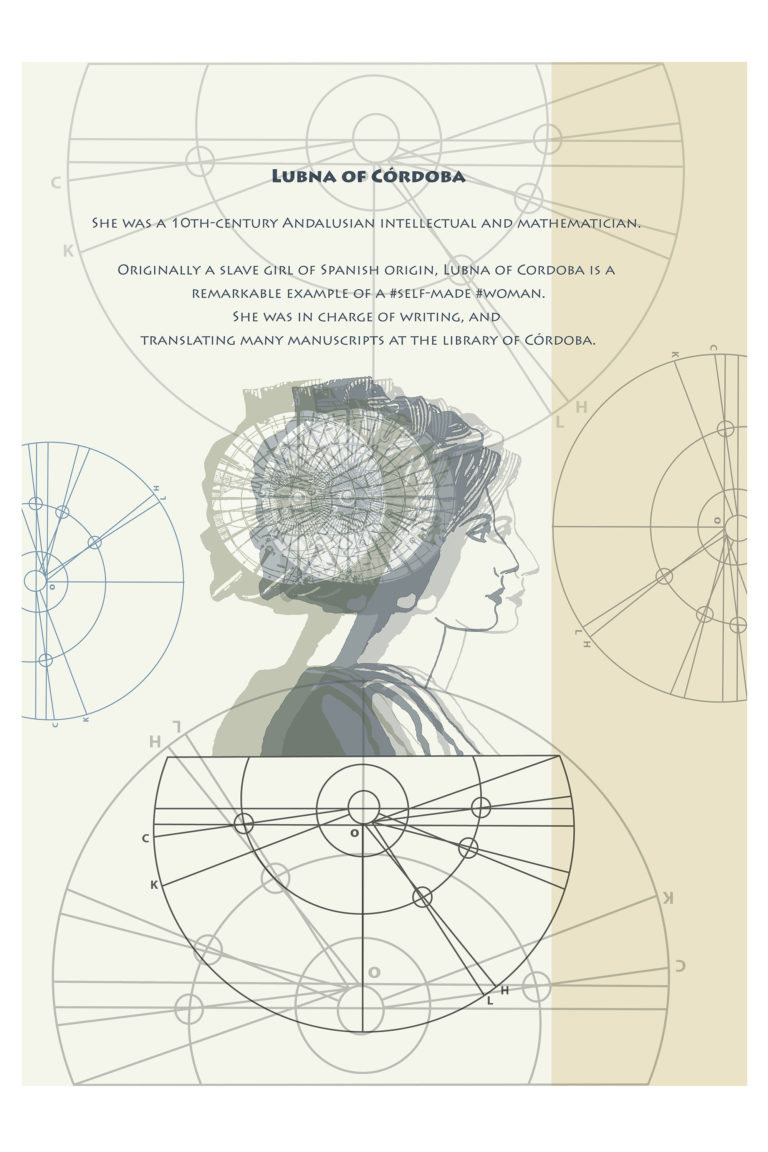 #Lubna of Cordoba, 2019, digital illustration and print on fabric
Description: Lubna of Córdoba was an Andalusian intellectual and mathematician famous for her knowledge of grammar and the quality of her poetry. Originally a slave girl of Spanish origin, she later became the secretary of the Caliph of Córdoba, Al-Hakam II, a great defender of culture. In the library of Córdoba, Lubna was in charge of writing, and translating many manuscripts. She was the driving force behind the creation of the famous library of Medina Azahara, which was home to more than 500,000 books.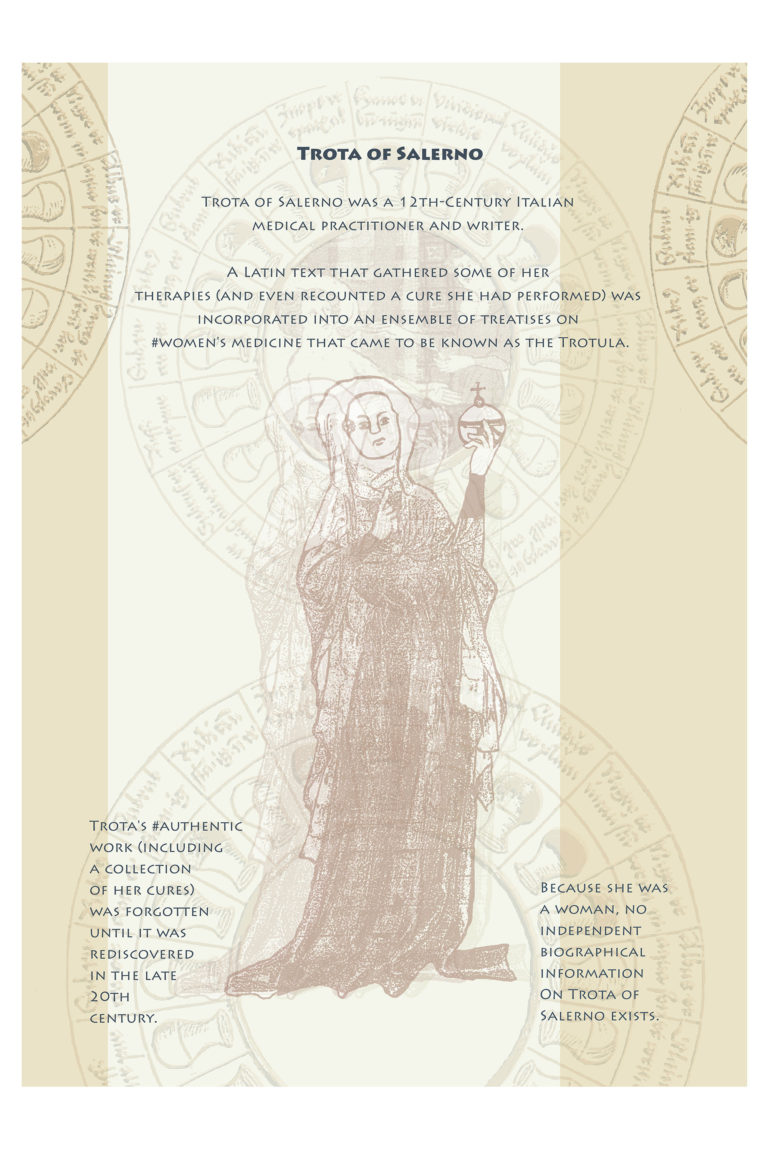 #Trota of Salerno, 2019, digital illustration and print on fabric
Description: Trota of Salerno was a medical practitioner and medical writer in the southern Italian coastal town of Salerno who lived sometime in the early or middle decades of the 12th century. Her fame spread as far away as France and England in the 12th and 13th centuries. A Latin text that gathered some of her therapies was incorporated into an ensemble of treatises on women's medicine that came to be known as the Trotula. Trota's authentic work was forgotten until it was rediscovered in the late 20th century.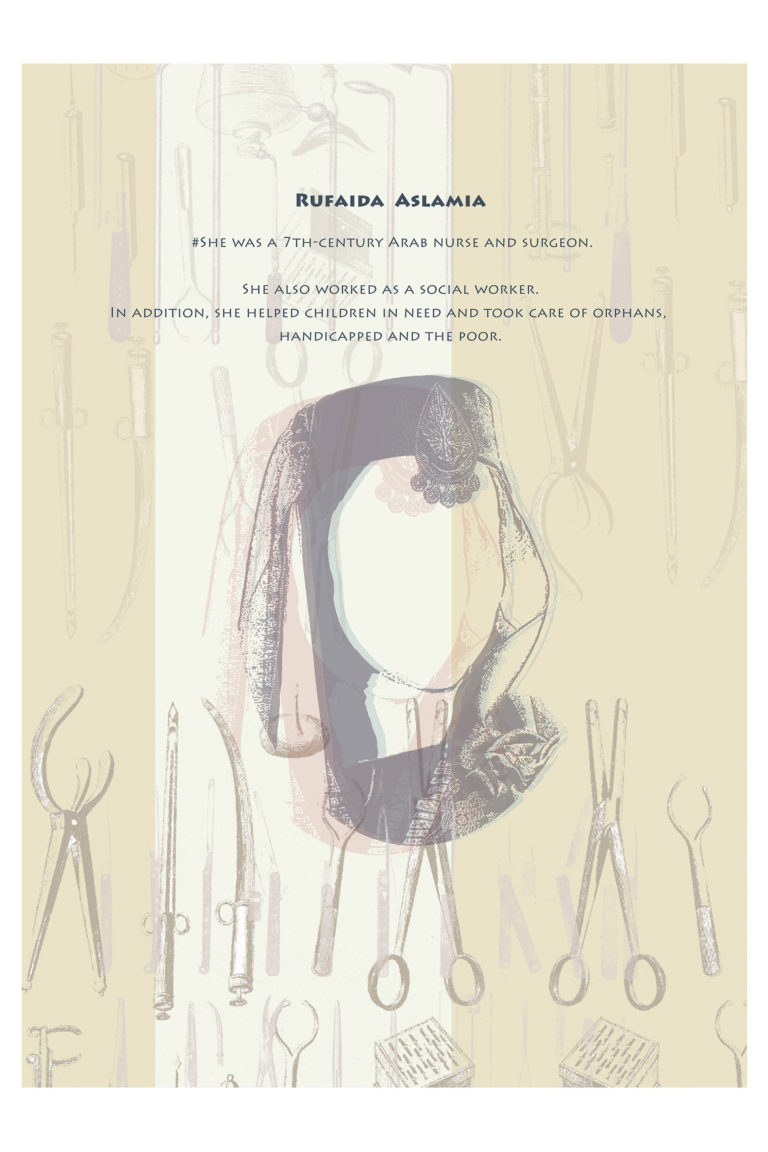 #Rufaida, 2019, digital illustration and print on fabric

Description: She was an Islamic medical and social worker recognized as the first female Muslim nurse and the first female surgeon in Islam.
Another Proposal for an Installation 
A proposed installation that features a medieval structure called Majlis. In the medieval Arab world Majlis referred to a place of a private gathering, where guests were received by the king. In modern Arabic and other Middle Eastern languages the term carries a variety of connotations. In Persian, for example, the term conjures up several meanings from gathering places to parties and a place of democratic and parliamentary debates. My installation Majlis turns the traditional male dominated space of the king and his entourage into a feminine space.
Majlis, with sheer draperies invites the visitors inside to get to know the forgotten female scientists of the ancient, medieval and early modern eras.  In the Majlis the viewers can lean on cushions which are laid on the floor. Each cushion has a portrait of a female scientist, who contributed to preservation or advancement of science. Each image accompanies hashtagged words from the women's biography. The hashtags are meant to conjure up the recent #metoo and #timesup movements.  The viewers then see a video projection on the ceiling composed of the celestial and mathematical diagrams or medicinal remedies, which drawn or developed by these women scientists. The cushions and the drapery are aimed to provide a vision of a domestic and sensual space, where these women would have been perceived but simultaneously, they form a locus for intellectual encounters.
Dimension: 7x7x7 feet
3-D rendition by Parham Karimi, Toronto, Canada
Alternative installation for Majlis if a floor structure can't be accommodated. Views 1 & 2, showcase two walls (in the gallery), cushions on a bench for visitors to sit on, draperies and a projector on the wall, above the bench, that project images across
Dimension approximately: 7x7x7 feet


Example of images printed on cushions, Hypatia of Alexandria and Lubna of Cordoba
Research
The Microscope, written and illustrated by Mary Ward, an Irish scientist, artist and microscopist, 19th C.
Photos: Pantea Karimi
Manuscript's third edition is housed at the MIT