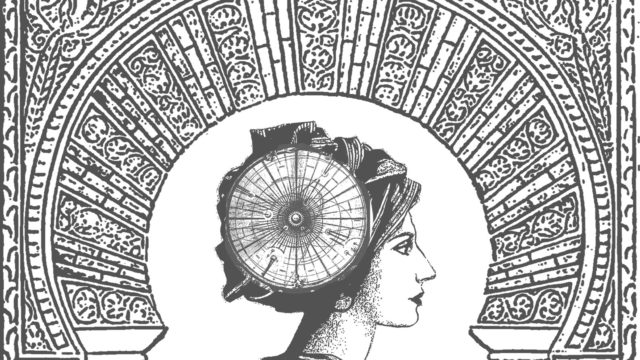 The Forgotten Women of Science
The Forgotten Women of Science, 2020
A Solo Exhibition at The San Jose Museum of Quilts & Textiles

The Forgotten Women of Science features lesser-acknowledged female scientists, from ancient times to the nineteenth century, and highlights their contributions to science. History shows that there were many powerful, intelligent and professional women in a wide range of scientific fields. These women did not just assume marginalized roles in the male-dominated fields of science; they were also pioneers and generators of cutting-edge ideas.
In mid-2018, Pantea Karimi was invited to create a piece about the #MeToo movement for an exhibition, during which The Forgotten Women of Science project was borne. Through ideas, images, and texts, Karimi challenges the inadequate recognition of female scientists in historic records by highlighting their names, stories and achievements.
The information for this exhibition is taken from articles, books, and online sources. Karimi has included names from ancient times up to the nineteenth century when the suffrage movement took shape. She has showcased diverse countries and cultures but still, many names are not represented here, including Iranian female scientists from the medieval to the nineteenth century. This is due to insufficient or contradictory data that she encountered in her research. Some of the texts are manipulated with white threads or crossed out to draw attention to the challenge of gathering authentic data on these female scientists.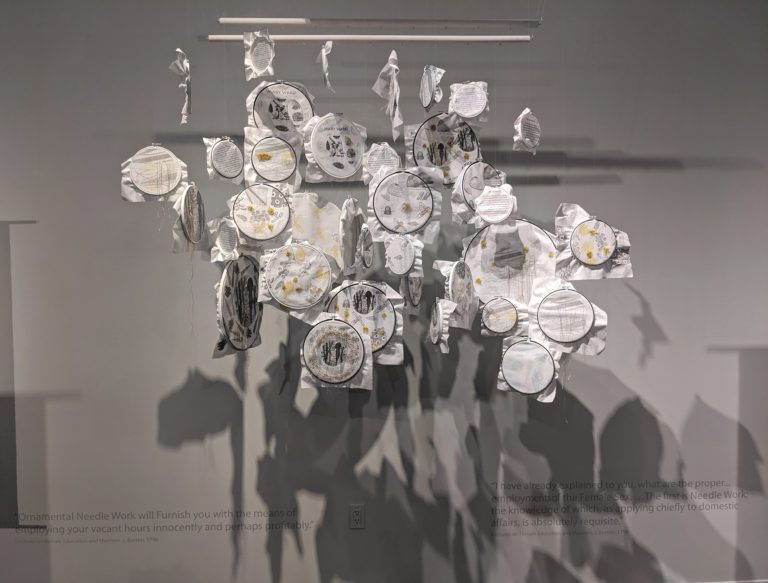 The Other Kind of Embroidery, 2019, hand-painted embroidery hoops, silkscreen on fabric, hand-embroidered with gold and silver threads
H:66 x W:73 x D:18 inches
The Other Kind of Embroidery displays the scientific observation of nature and drawings by Mary Ward. I extracted images from her manuscript, The Microscope, which I studied at theInstitute Archives at MIT in the Fall of 2018. I screen-printed her scientific drawings on fabric, stretched them over embroidery hoops and stitched on the images using gold and silver threads. The circle shapes and hoops reference the microscope eyepiece and field of vision. I painted the hoops in black and white and printed the images with hues, which reflect Ward's original color scheme in her illustrations. Embroidery was part of conventional female education in the 18th and 19th centuries in England and Ireland. The embroidery images were mainly generic. By printing Ward's scientific drawings on fabric and stitching through them, I aim to bring attention to her scientific work and elaborate drawings through a conventional activity that was assigned to women at the time.
As an artist, I have been interested in studying scientific manuscripts that were also illustrated by scientists who had artistic abilities. This manuscript not only fulfilled my visual interest but also was written and illustrated by a female scientist. It has given me the pleasure to relate to the work both as an artist and a woman.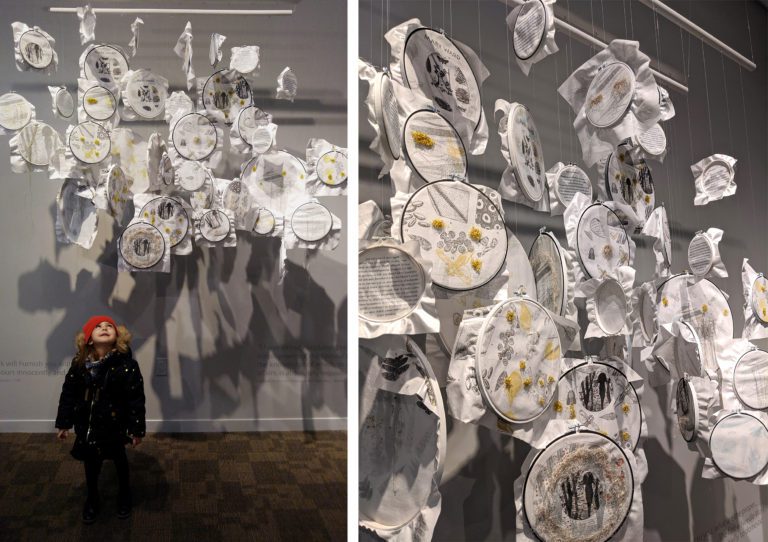 The Other Kind of Embroidery, details     H:66 x W:73 x D:18 inches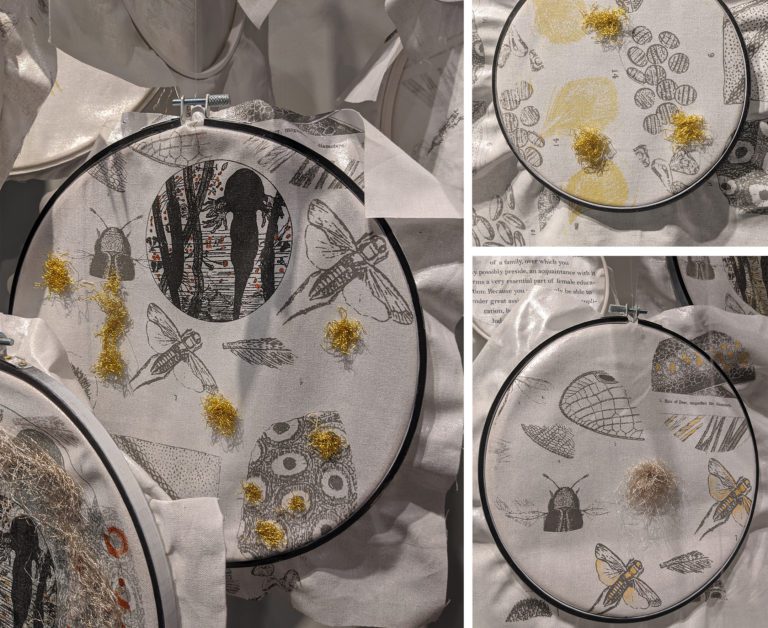 The Other Kind of Embroidery, details of embroidery hoops, variable dimensions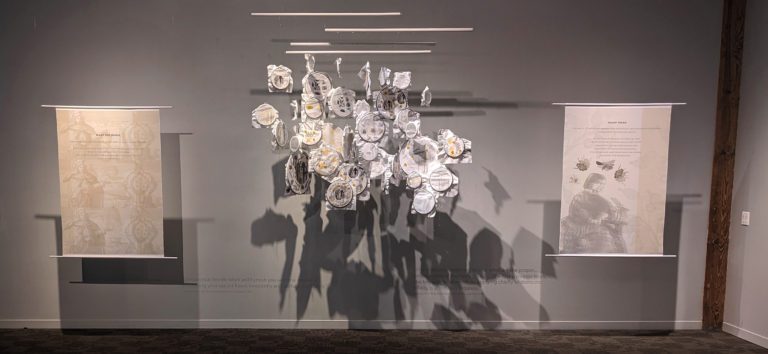 Center: The Other Kind of Embroidery
Side panels: An Introduction: Mary the Jewess and Mary Ward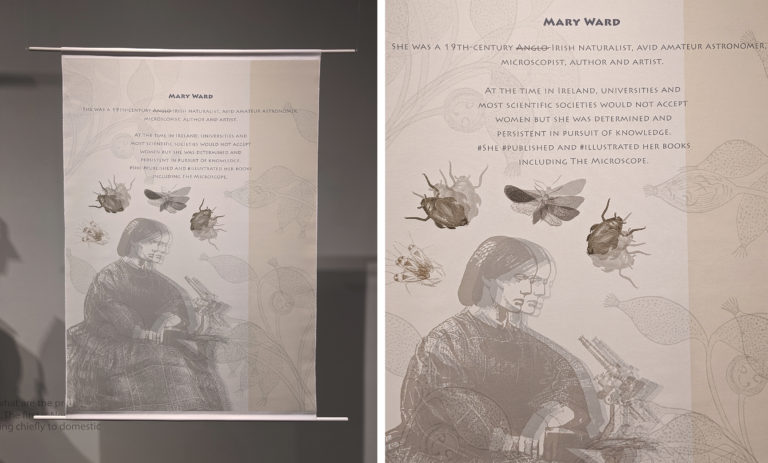 An Introduction: Mary Ward, the Irish scientist, and artist, 19th c.
She was an avid amateur astronomer, microscopist, author, and artist. At the time in Ireland, universities and most scientific societies would not accept women but she was determined and persistent in pursuit of knowledge. She published and illustrated her book The Microscope in 1869.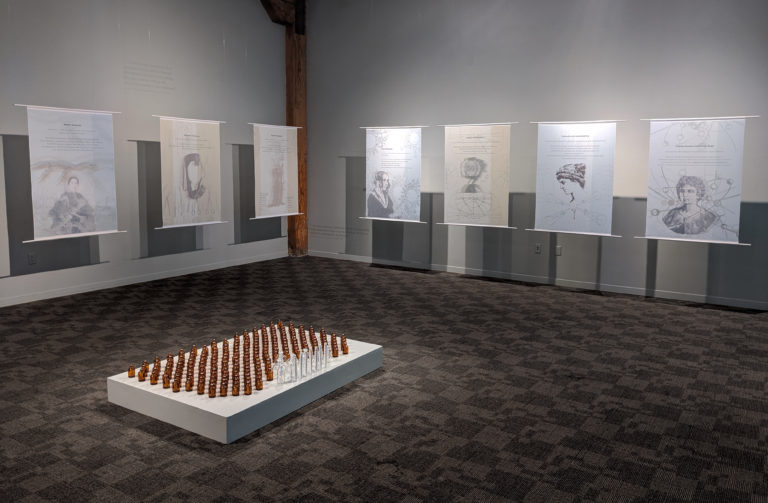 An Introduction, 2019, digital illustration and print on fabric, each panel: 48 x 34 inches
Women scientists featured in this series are Ada Lovelace, Lubna of Cordoba, Laura Bassi, Rufida, Mary Anning, Trota of Salerno,
Hypatia, Mary the Jewess, and Mary Ward
An Introduction showcases nine scientists whose works I found remarkable for their time and circumstances. Many images of early female scientists have not survived or are not suitable for artistic production. Using images I gathered, I digitally illustrated these nine scientists and composed the panels with diagrams, reflecting their scientific works, and their brief life stories. The layout of the panels and colors represent pages of manuscripts and scientific themes. The softness of hues and layered images symbolize their "forgotten" names in our current memories. In some of the panels, parts of their biographies are crossed out as a commentary on the inconsistency of profiles that I found on these women.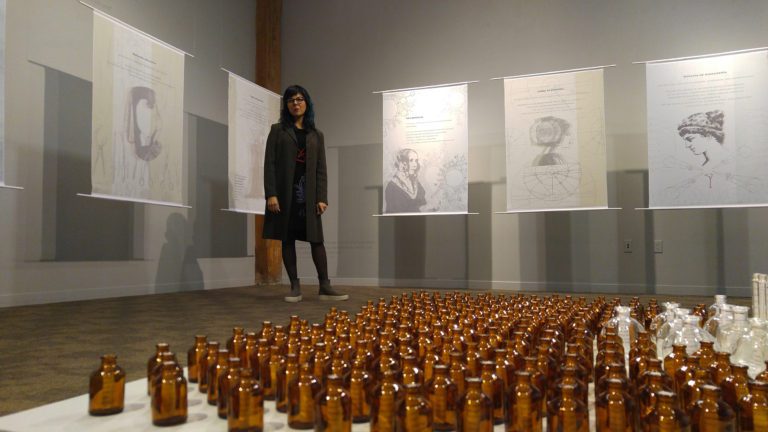 An Introduction: Lubna of Cordoba and Hypatia

Lubna was a 10th-century Andalusian intellectual and mathematician. Lubna of Cordoba is a remarkable example of a self-made woman. She was in charge of writing and translating many manuscripts at the library of Córdoba.
Hypatia was a 4th-century philosopher, astronomer, and mathematician. As the political atmosphere of Alexandria shifted to a conservative Christian one, Hypatia became subject to criticism and violence. She was brutally murdered due to her gender, intelligence and influential role in politics.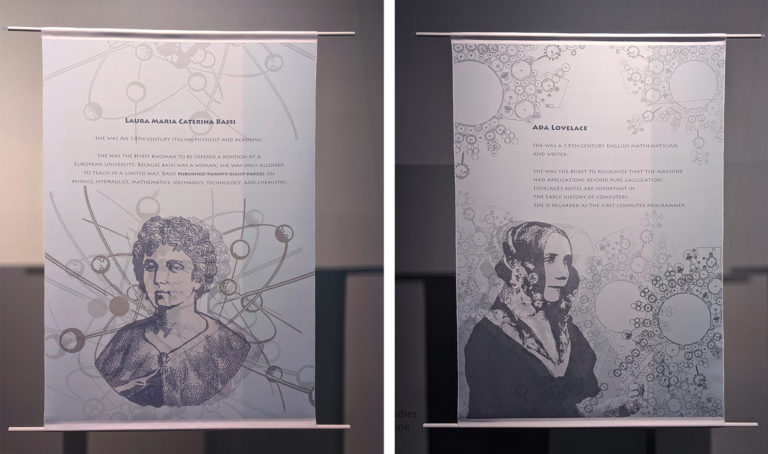 An Introduction: Laura Bassi and Ada Lovelace

Laura Bassi was an 18th-century Italian physicist and academic. She was the first woman to be offered a position at a European university. Because Bassi was a woman, she was only allowed to teach in a limited way.
Ada Lovelace was a 19th-century English mathematician and writer. She was the first to recognize that the machine had applications beyond pure calculation. She is regarded as the first computer programmer.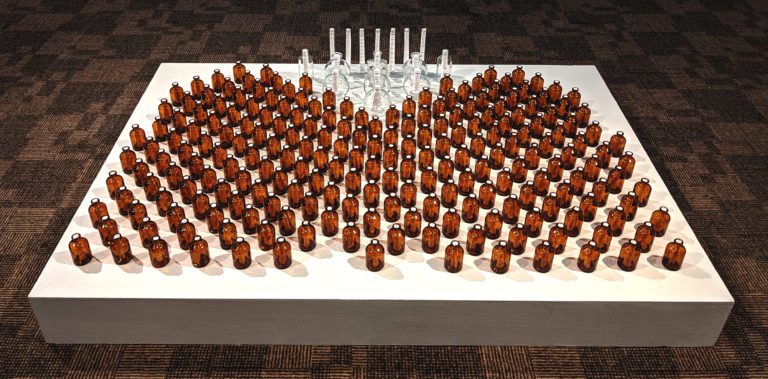 Apothecary, 2019, 200+ bottles with 12th c. recipes, H: 6 x W: 60 x D: 42 inches
This work features 200 bottles containing rolled papers of medical recipes from the medieval period that concern women's health or beauty. The recipes are taken from the book The Trotula, an English Translation of the Medieval Compendium of Women's Medicine (2001), edited and translated by Dr. Monica H. Green. The Trotula is an ensemble of three independent works, written by three different authors. One of them was written by, or derived from the teachings of, Trota of Salerno in the 12th century, according to Dr. Green. These recipes address various health issues for women, children, and men, using herbs, plants, seeds, animal fat or bone, eggs, and wine, to name a few.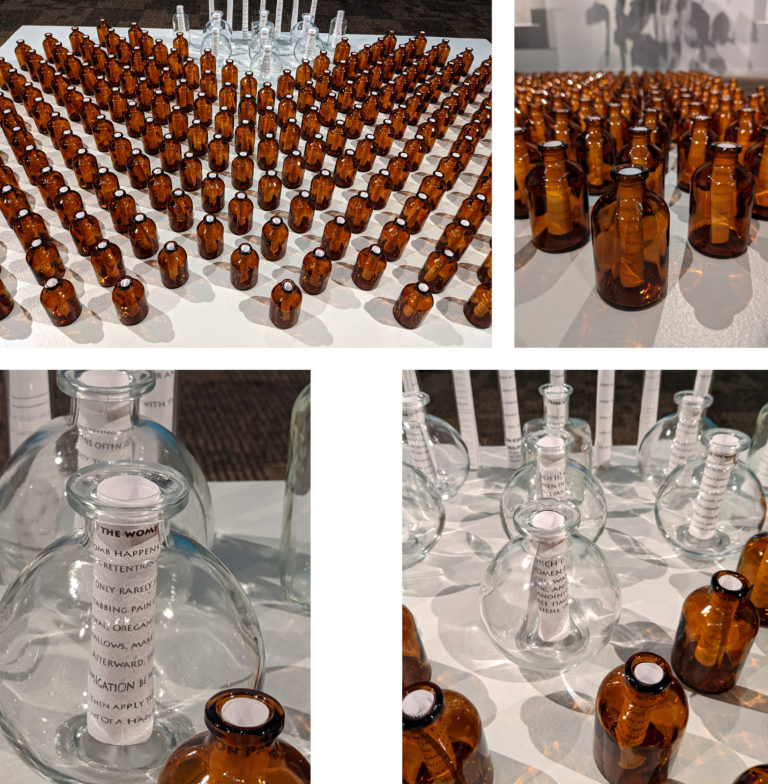 Examples of the recipes inside the bottles:
From the book, The Trotula, an English Translation of the Medieval Compendium of Women's Medicine (2001), edited and translated by Dr. Monica H. Green.
"For whitening the Hands [241] for whitening and smoothing the hands, let some ramsons be cooked in water until all the water has been consumed. And stirring well, add tartar and afterward two eggs, and with this you will rub the hands."
 "On Freckles of the Face [177] For freckles of the face which occur by accident, take root of bistort and reduce it to powder, and cuttlefish bones and frankincense, and from all these things make a powder. And mix with little water and then smear it, rubbing, on the hands in the morning, rubbing them with rose water or water of bran or with breadcrumbs until you have removed [the freckles]."
"For removing wrinkles [176] For wrinkled old women, take stinking iris, that is gladden, and extract its juice, and with this juice anoint the face in the evening. And in the morning the skin will be raised and it will erupt, which rupture we treat with the above-mentioned ointment in which root of lily is employed. And first pulling off the skin, which after the rupture has been washed, it will appear very delicate."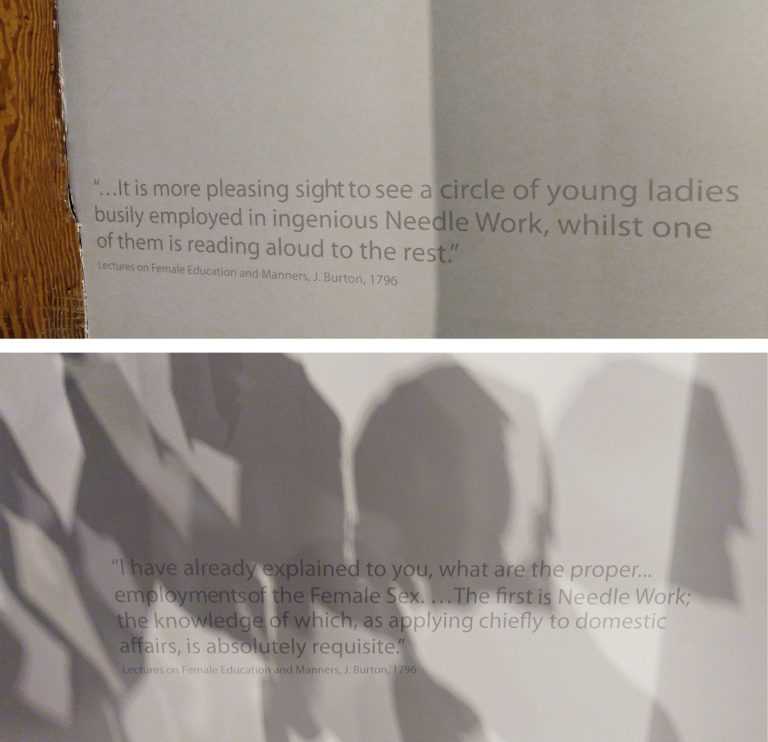 Embroidery and Needle Work were part of conventional female education in the 18th and 19th centuries in England and Ireland. On the walls, I have included texts from the manuscript: Lectures on Female Education and Manners by J. Burton, printed in 1796. I read parts of this book during my extended visit to the Marsh's Library in Dublin, Ireland in July 2019.
Research
Many thanks to Dr. Paula Findlen at Stanford University and Dr. Monica H. Green at Arizona State University for their advisory contributions to the content.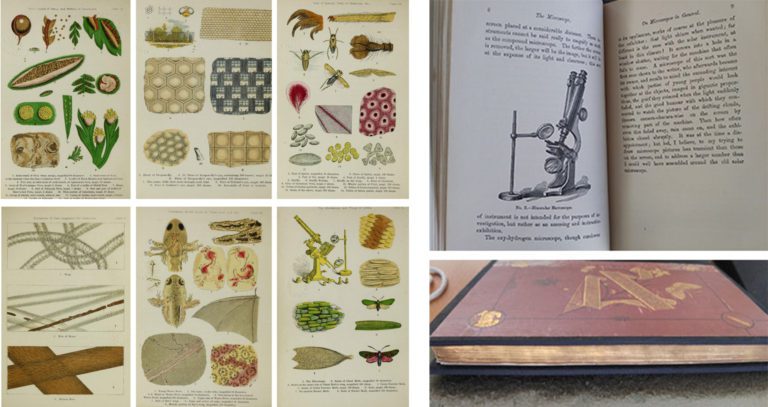 The Microscope, written and illustrated by Mary Ward, an Irish scientist, artist, and microscopist, 19th C.
Photos: Pantea Karimi          Manuscript's third edition is housed at the MIT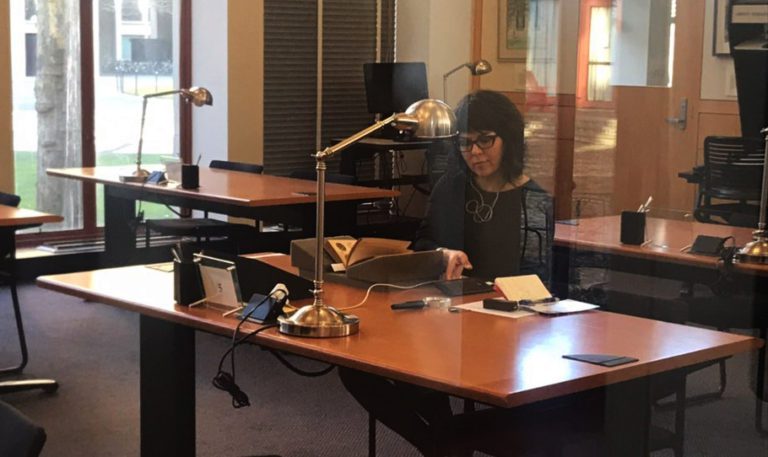 MIT, studying Mary Ward manuscript: The Microscope, Fall 2018

Marsh's Library, Dublin, Ireland, July 2019
Manuscript: Female Education and Manners, by J. Burton, 18th c.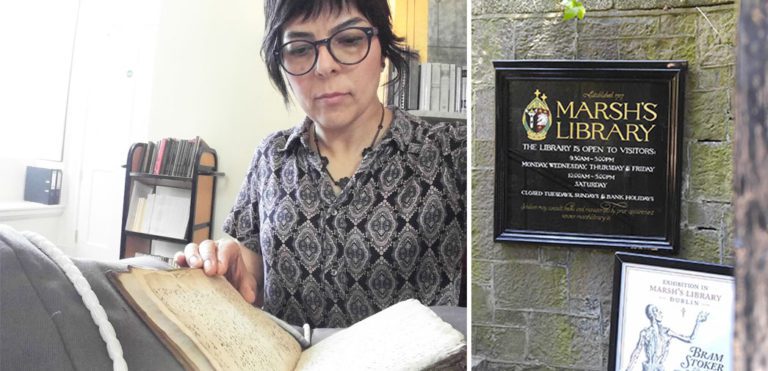 Marsh's Library, Dublin, Ireland, July 2019
Photos by Pantea Karimi