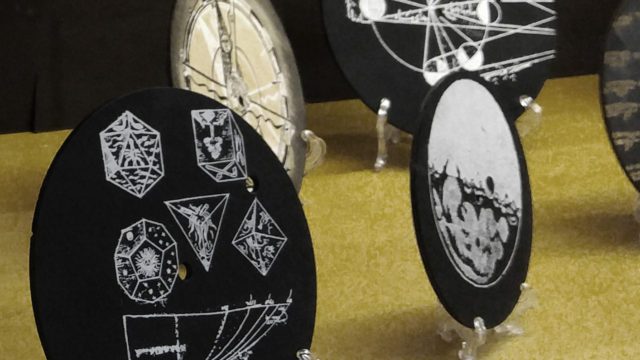 Site-Specific Exhibition @ MIT's Rotch Library
Visual Thinking: Six Ways of Picturing Knowledge, 2018
Site-Specific, Solo Exhibition @ MIT's Rotch Library of Architecture and Planning
Visual Thinking: Six Ways of Picturing Knowledge is a multi-media, site-specific exhibition by Pantea Karimi at MIT's Rotch Library of Architecture and Planning. On display from September 28 to December 14, 2018, the exhibit features six bodies of works that are inspired by a collection of 19th-century books housed at MIT's Rotch Library and the Institute Archives & Special Collections, including The Grammar of Ornament by Owen Jones and The Microscope by Mary Ward. Other sources of inspiration come from medieval books in the possession of libraries around the world, including Sidereus Nuncius by Galileo Galilei, The Canon of Medicine by Avicenna and The Book of Optics by Al-Hazen, among others.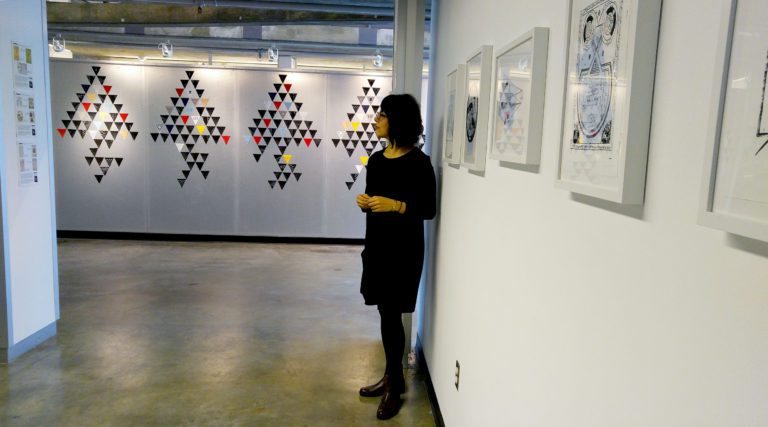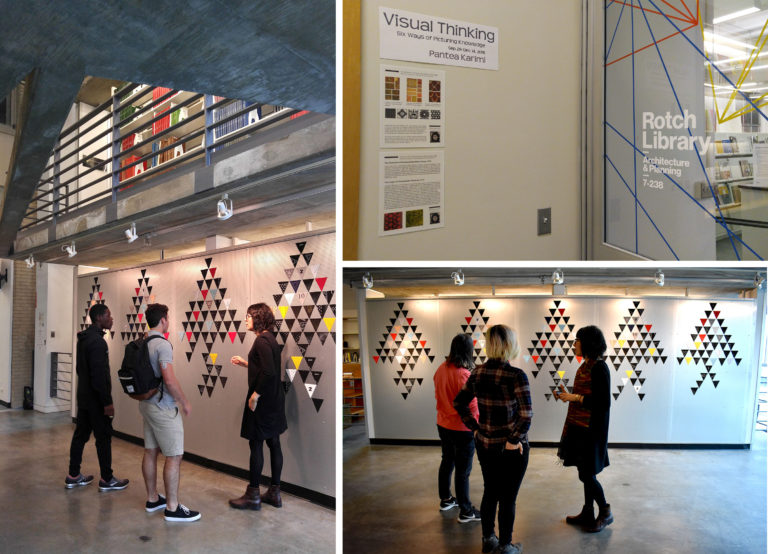 Khayyam-Pascal, 2018, silkscreen on hand-cut felt, 4 x 20 feet
MIT's Rotch Library of Architecture and Planning, Cambridge, MA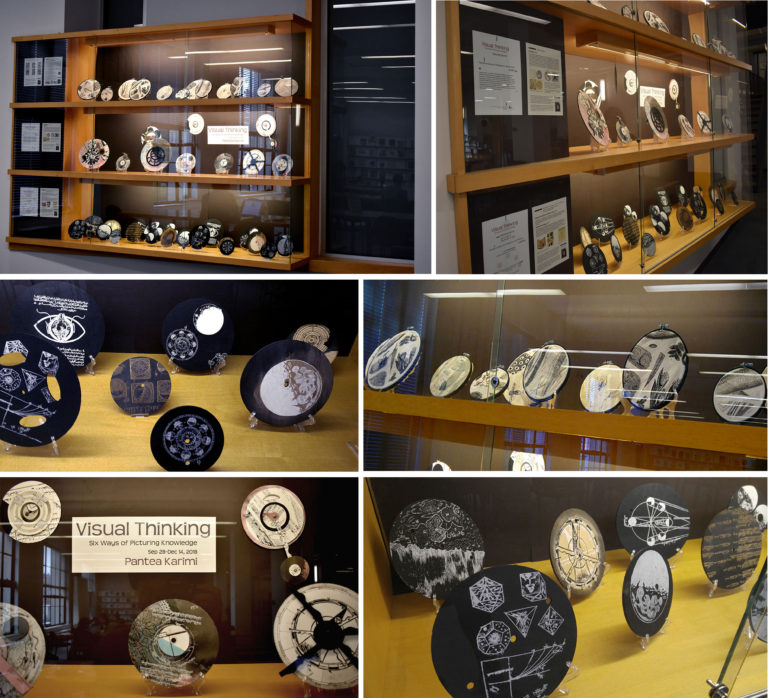 The Geometry in Ornamental Patterns, 2018, silkscreen on plexiglass, MIT's Rotch Library, Cambridge, MA
The Geometry in Ornamental Patterns, 2018
I used the 1865 copy of The Grammar of Ornament by Owen Jones to create a series of colorful geometric small-size tiles. I selected patterns from different regions of the Islamic world and medieval Europe featured in Jones's book. For me, this transition of the ornament from 2D surfaces to 3D tiles highlights Jones's work in an architectural manner. Owen Jones was a passionate designer, printmaker and craftsman. Like Jones, I have a passion for design and printing mediums. Furthermore, I found his manuscript and the way he archived his findings quite systematically with a scientific sensibility. Growing up in Iran, I was always fascinated with floral patterns that I saw on Persian carpets and tiles in mosques and historical monuments. Although most of the floral patterns drew inspiration from nature, I first recognized geometry and the grids in their design. The memory of Persian stained glass windows and colorful lights inside the architectural spaces provided other sources of inspiration for this project. In my display of Jones's works, I utilize square color-plexiglass pieces to remind the viewer of tiles in architectural spaces and the transparent plexiglass lets the light through like stained-glass windows. I amplify the patterns and use silkscreen to print them on each tile to highlight the beauty of their design. The tiles may be displayed in various formats while maintaining the integrity of decorative and architectural aspects of Jones's ornaments.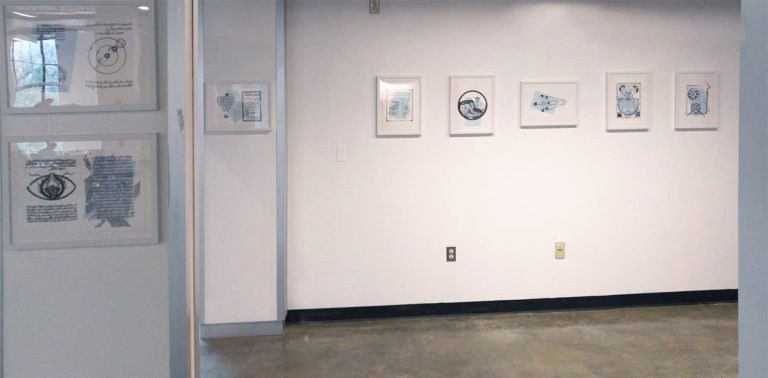 Manuscript Folios, 10th-14th C., 2018, silkscreen on paper, each 13x 17 inch
Research
Institute Archives and Special Collections at MIT, 2018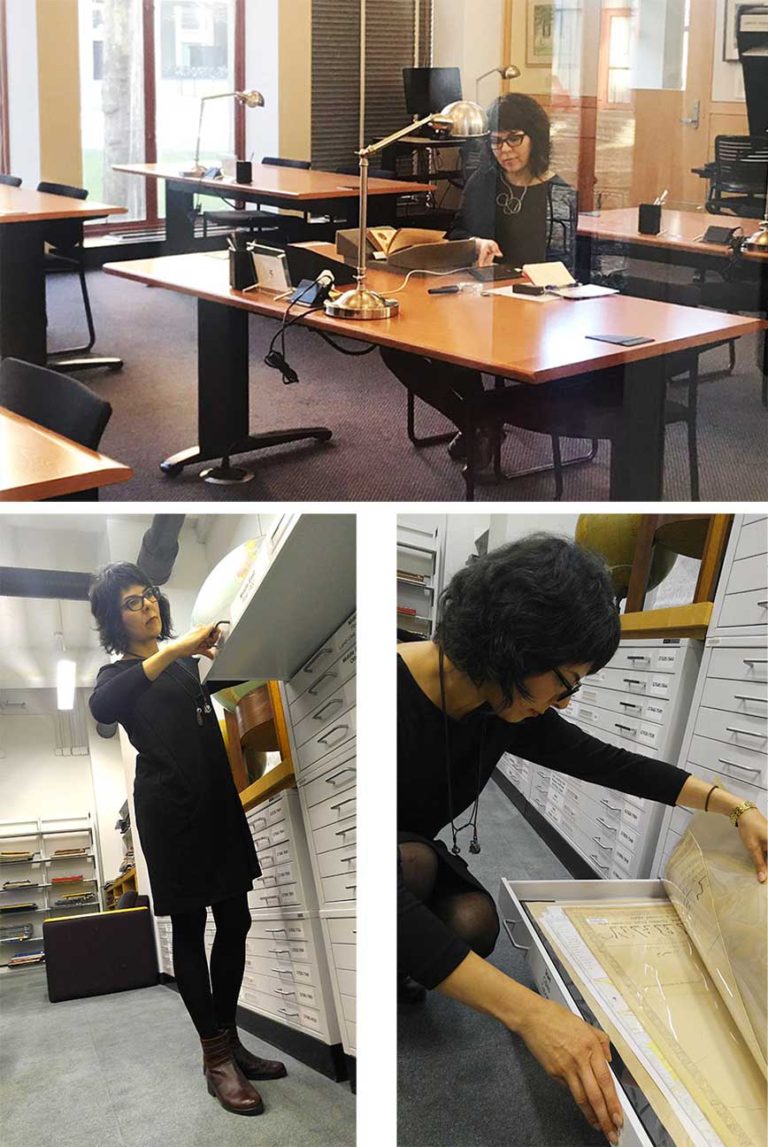 The Microscope by Mary Ward, 1869
Mary Ward was a 19th-century Anglo-Irish naturalist, avid amateur astronomer, microscopist, author, and artist. At the time in Ireland, universities and most scientific societies would not accept women but she was determined and persistent in pursuit of knowledge. She lacked formal training in science but corresponded with universities and scientists to obtain information. She wrote popular works including The Microscope, published in 1869, which its third edition is owned by MIT. This manuscript placed her among the earliest women to publish in such fields. All of the illustrated plates in her manuscripts were produced from Ward's own drawings, showcasing her artistic skill and ability. The Microscope manuscript includes notes and intricate drawings of insects, seeds, plants, animals' hair, and birds' feathers that Ward observed through the microscope.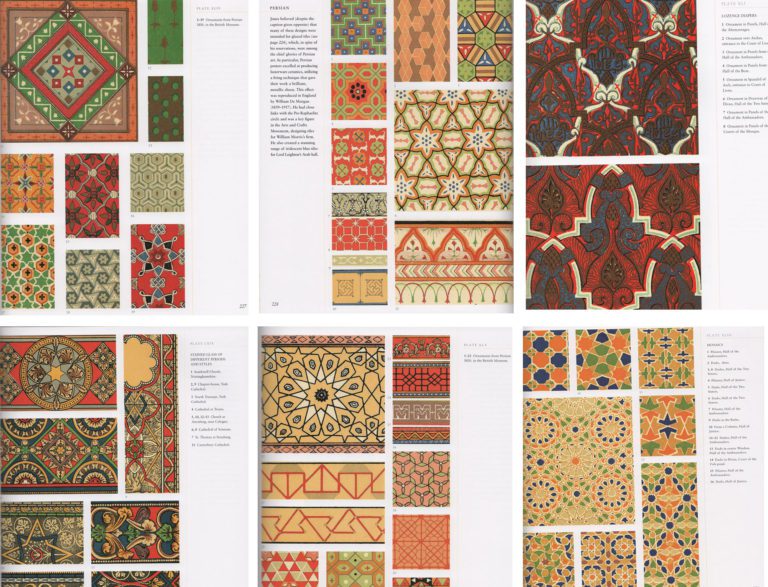 The Grammar of Ornament by Owen Jones, 1865
Owen Jones was an English-born Welsh architect, craftsman, printmaker and designer. Jone's theories on flat decorative patterning still apply today. Jones published his sourcebook, The Grammar of Ornament, in 1856. This manuscript is shelved in the Rotch Library of Architecture and Planning at MIT. The first few chapters of The Grammar of Ornament present key examples of architectural patterns from diverse sources, both historically and geographically, examining the Middle East in the chapters on Turkish, Arab, Moresque (Alhambra) and Persian ornaments. The book also examines the patterns from medieval Europe as well as leaves and flowers from nature.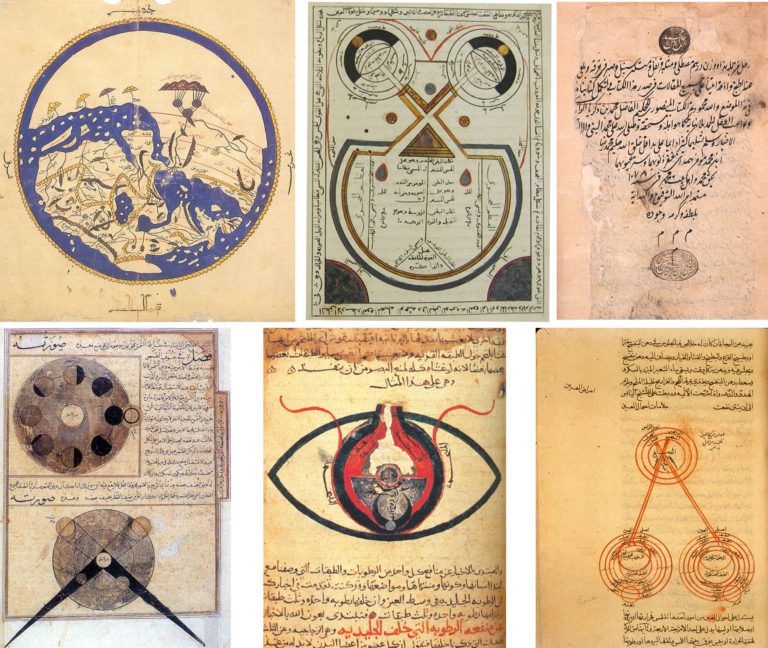 Medieval Islamic Manuscripts Folios, 10th-14th C.