2020
Publication: An homage to Khayyam and Pascal, 2020, Article in Journal of Mathematics and the Arts, UK
---
Solo Art Exhibition: The Unbearable Lightness of Mathematics, Sep 10-Oct 17, 2020: Solo Art Exhibition at Mercury 20 Gallery, Oakland, CA
---
Announcement: Marsh's Library Residency and Project, June 2020
---
Solo Art Exhibition: The Forgotten Women of Science, Jan 19-March 1st, 2020: Solo Art Exhibition at the San Jose Museum of Quilts & Textiles
Media Coverage: KQED, California Report, Listen
California Report-KEOD Website
Panel Discussion: Women Scientists: Vision & Visibility, Art-Science-History with UC Berkeley & Stanford University
Grant: The Forgotten Women of Science exhibition's Panel Discussion (Women Scientists: Vision & Visibility) has received the grant from the County of Santa Clara, Office of Women's Policy.
---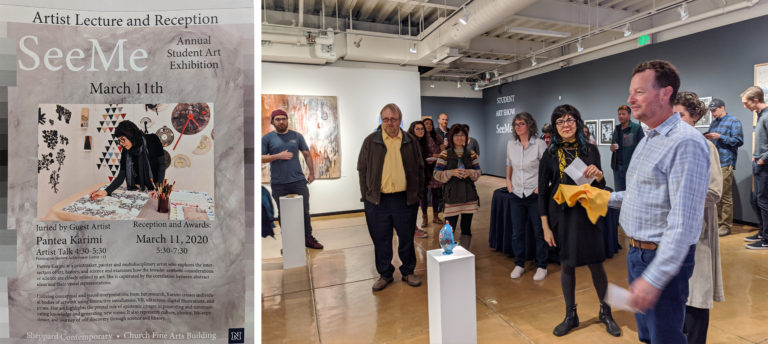 Judge and Artist Talk: The University of Nevada Annual Student Art Exhibition Judge. Artist Talk and Award ceremony, Wed. March 11th. https://events.unr.edu/event/artist_talk_pantea_karimi
---
Artist Talk, The Forgotten Women of Science, Los Altos Library, Feb 11th- 1:30-2:15 PM.
---
Group Exhibitions:

Contemporary Iranian Art & The Historical Imagination, contemporary Iranian artists engage with Iran's ancient heritage, history, and politics, UMASS Dartmouth, New Bedford, MA  Feb 20-April 1.
SFMOMA Artists Gallery, The Fort Mason Center & Corporate Office, SF, CA    March 1-May 1
31 Women, Whitney Modern Gallery, Los Gatos, CA      March 1-April 12. Reception: 3/8, 2-4 pm
Women Pathmakers, Euphrat Museum of Art, Cupertino, CA      Jan 23-March 12. Reception: 2/12, 5:30-7:30 pm
---
2019, Highlights
Recipient of the 2019 Silicon Valley Artist Laureate Award
https://vimeo.com/svcreates/panteakarimi
http://panteakarimi.com/artist-talk/
Featured Artist at the Content Magazine
Read an interview from issue 11.3 http://bit.ly/113Pantea
http://panteakarimi.com/press/
Recipient of 2019 Arts and Cultural Exchange Grant, Collaboration with Chester Beatty, Museum and Library in Dublin, Ireland. https://youtu.be/lBQ24lH-LD4
Featured Artist and Art Project at the British Library, London, UK:
https://blogs.bl.uk/asian-and-african/2019/07/countdown-biruni-galileo-apollo-british-library-astronomy-manuscripts-in-new-visual-forms-.html