Teaching Experience
I have studied and taught in three countries, Iran, the UK, and the US while employing my skills in classical music, fine arts, and graphic design in diverse academic and professional environments. In the United States, since 2005, I have been teaching fine arts and graphic design courses at all levels at the San Jose State University, the Community School of Music and Arts, the Montalvo Art Center, the Euphrat Museum of Art at De Anza College, the Cabrillo College, and the College of San Mateo.
In addition to teaching college and university-level courses, I have participated in a wide range of art management and design projects and have worked with institutions and museums, both locally and internationally: While residing in England from 2001 to 2005, I taught computer graphics programs for the Education Action Zone, an educational innovation and technology information-based organization. Since 2005 in the United States, I have designed arts and architecture catalogs for the Massachusetts Institute of Technology (thresholds 32: ACCESS), and the San Jose State University (Lift Off); I have designed and conducted K-12 art and graphic design projects as well as collaborative installations that further tied technology applications and cultural identity with the visual arts components. I have curated multiple K-12 art exhibitions in the South Bay and Peninsula.  These projects were in collaboration with the Montalvo Art Center, the Euphrat Museum of Art, the Community School of Music and Arts, the Cubberley Artist Studio Programs, and the School of Arts and Culture, where I also received a generous grant for one of the K-12 art projects. In 2019, I received the City of San Jose Arts and Cultural Exchange Grant to travel to Dublin, Ireland. I designed and conducted six workshops called A Visual Approach: The Forms in Scientific Manuscripts for teens at the Chester Beatty Library and Museum in Dublin. The workshops' content was based on the medieval scientific manuscripts available at the library's collection. See the project at  A Visual Approach
Currently, I am an Adjunct Faculty in the departments of Studio Arts and Digital Media at the Cabrillo College in Aptos, and the College of San Mateo in San Mateo, CA.
Cabrillo College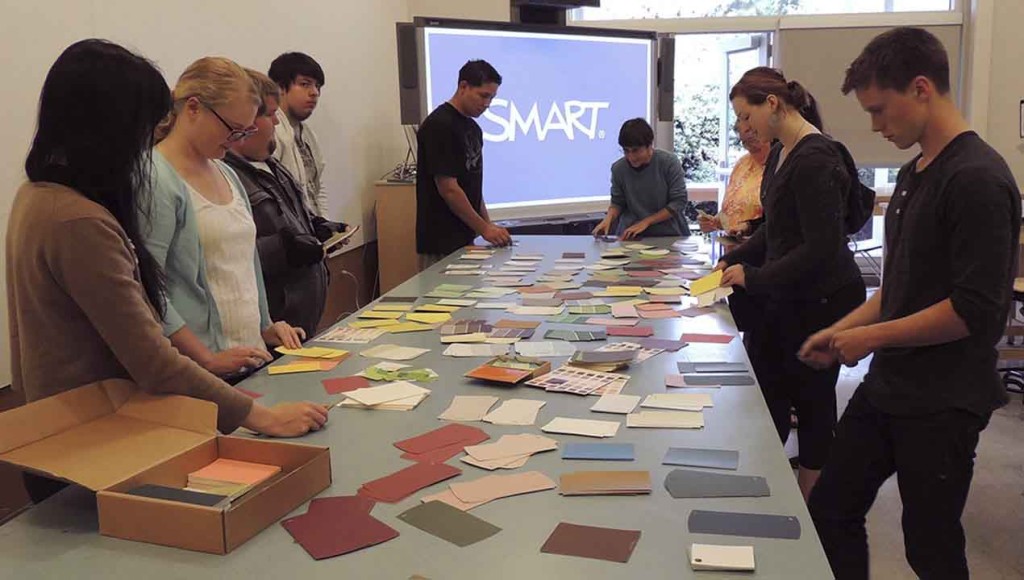 Cabrillo College, Aptos, CA, Two-Dimensional Design and Color Theory Course, Spring 2014, Students choosing color cards (an assignment on Josef Albers' Interaction of Color)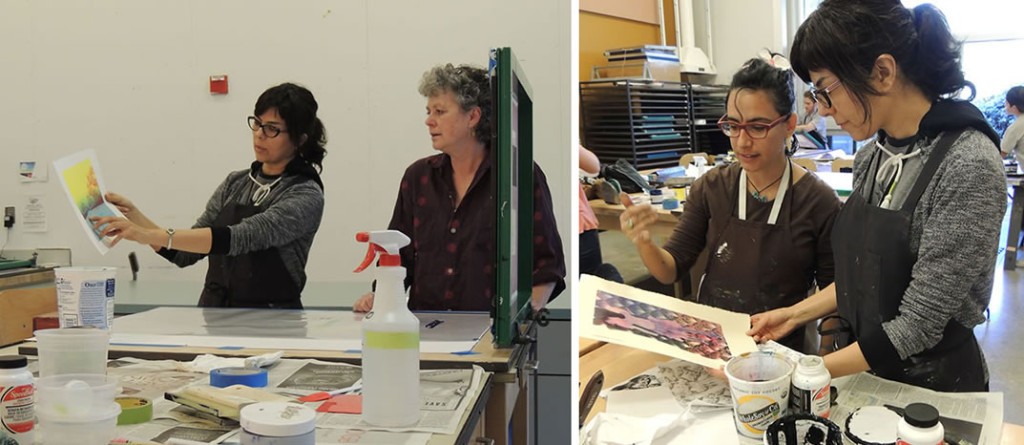 Cabrillo College, Aptos, CA, Silkscreen Course, Spring 2015, one-on-one discussions with students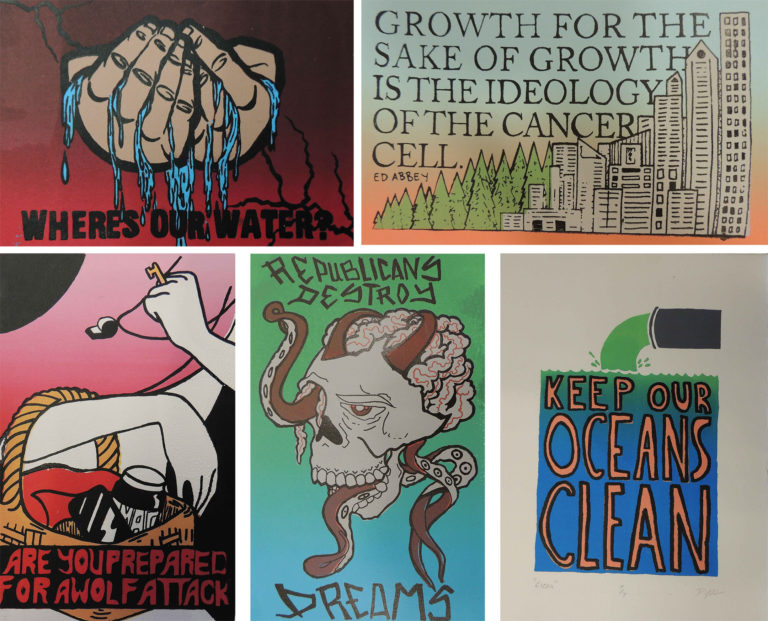 Cabrillo College, Aptos, CA, Students' Silkscreen Artworks, Fall 2014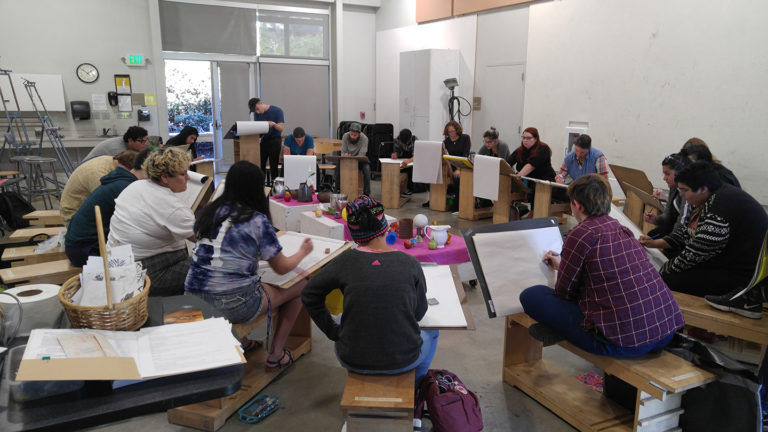 Cabrillo College, Aptos, CA, Drawing and Composition Course, Fall 2018, students drawing still-life
Thank you for the enriching experience in your ART-4 Beginning Design and Color class Fall 2019 at Cabrillo College. I feel fortunate to have had an instructor like yourself who teaches these fundamental art concepts with energy and excitement as if it was the first time you taught them. Thank you for your enthusiasm.

Cabrillo College, Aptos, CA, Silkscreen Course, Spring 2015, left: students' silkscreen prints, right: one of the students is signing her edition-silkscreen-prints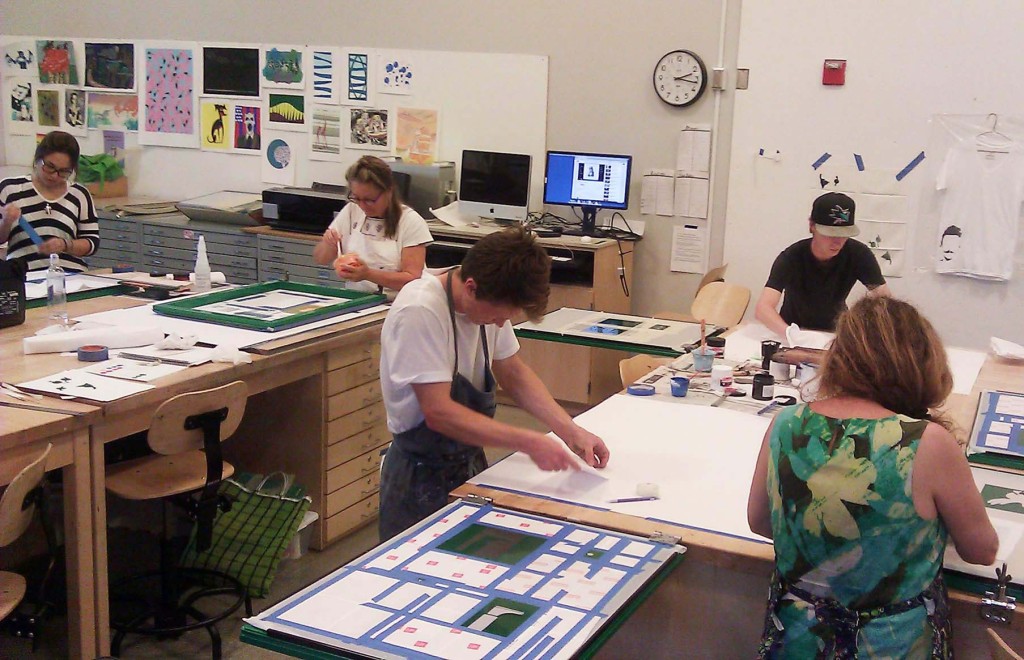 Cabrillo College, Aptos, CA, Silkscreen Course, Fall 2014, students preparing their screens for printing
Ms. Karimi's lectures and slides are rich, deeply thought out, with many pictorial examples appropriate for each lesson and assignment. She also enthusiastically encouraged class interaction as well as one-on-one support between students. This interaction grew into a truly collegiate environment. Students networked during class, sought out and shared insights – making studio time productive, personal and meaningful. It was a rich and worthwhile educational experience, one I will remember and am sad the semester is done.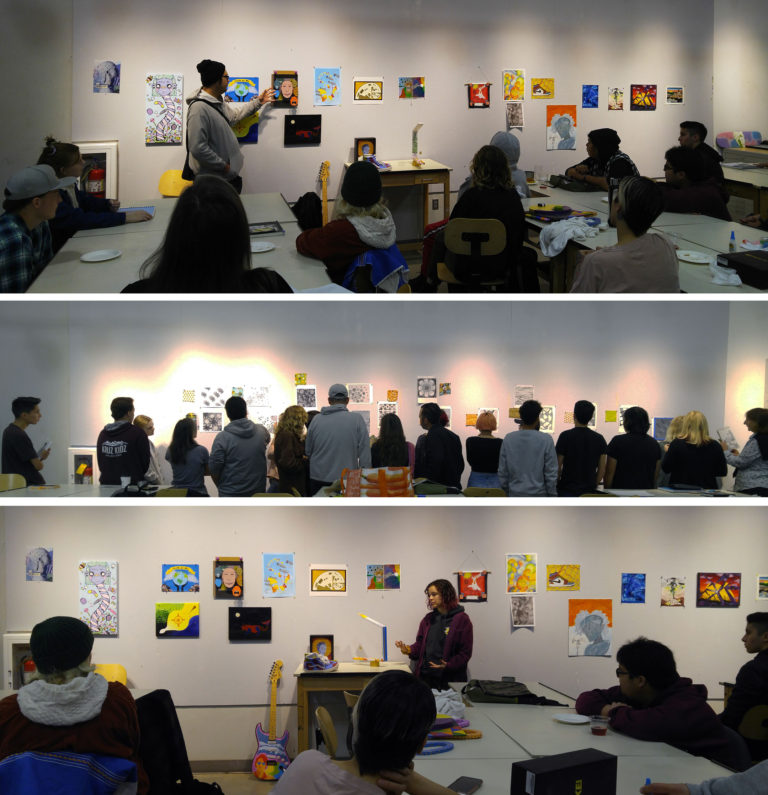 I am writing to thank you for such a great semester. Your teaching approach was very refreshing and motivational, the confidence in which you handle the class speaks to your talent and experience as an artist and, furthermore; as an instructor who passionately cares for art and those who seek to start an education in the field. Personally, I enjoyed the powerful way in which you lead the class, it kept me engaged and I found it core shaking and encouraging to see a strong woman share her knowledge so enthusiastically. This class and your techniques have helped me learn the intricate essentials of color and design that will enable me to better express myself as an artist with any other medium I choose to work with. I THANK YOU for that, once again, and look forward to having our artist paths cross again in the future. With great respect and humble gratitude.

I want to say Thank You for teaching this beginning design and color class with the best of your knowledge and all of your enthusiasm.  This class was extremely important for all of us, but especially for myself (being at this early stage in my career as an artist).  You have definitely left an impression on my approach and style that will last throughout my career!  The overwhelming emotional reaction you received from our class was without doubt a reflection of your hard work and dedication to teaching and to the arts.  If the opportunity were to ever present itself again, I would certainly consider signing up for your classes.

Cabrillo College, Aptos, CA, Fall 2019, Two-Dimensional Concepts and Color Theory, Critique Sessions and Assignments
---
College of San Mateo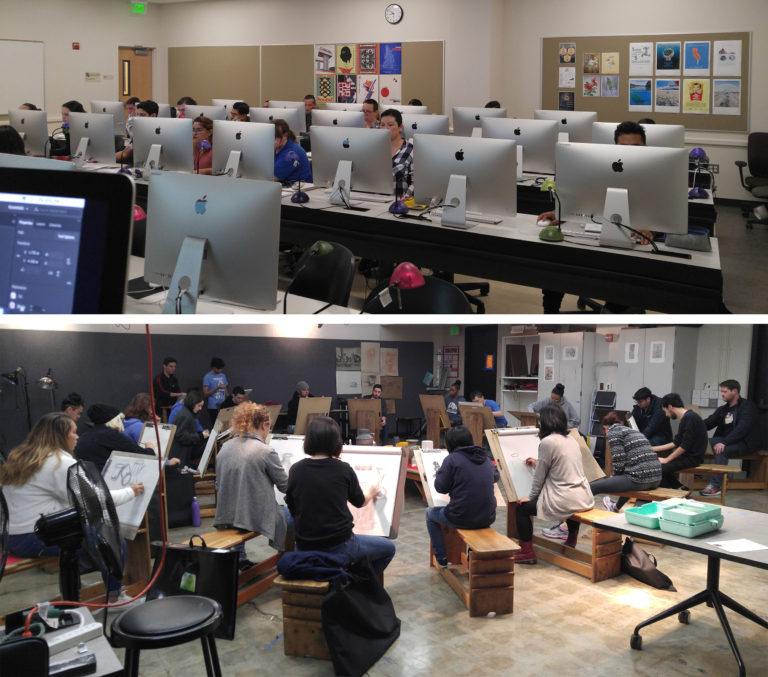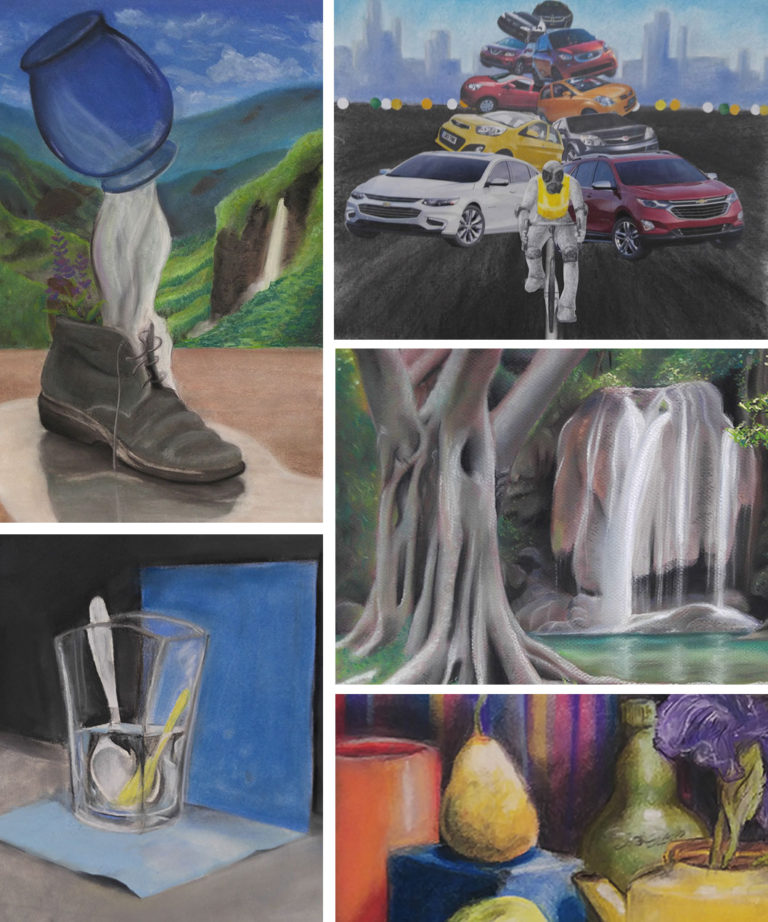 College of San Mateo, CA,  Drawing II,  Spring 2019

College of San Mateo, CA,  Drawing I,  Spring 2019

College of San Mateo, CA,  Graphic Design, Posters for various topics, Spring 2019

College of San Mateo, CA,  Graphic Design, Digital Illustrations, Scientific Manuscripts Project, Spring 2019
---
Digital Art and Graphic Design
Euphrat Museum of Art at De Anza College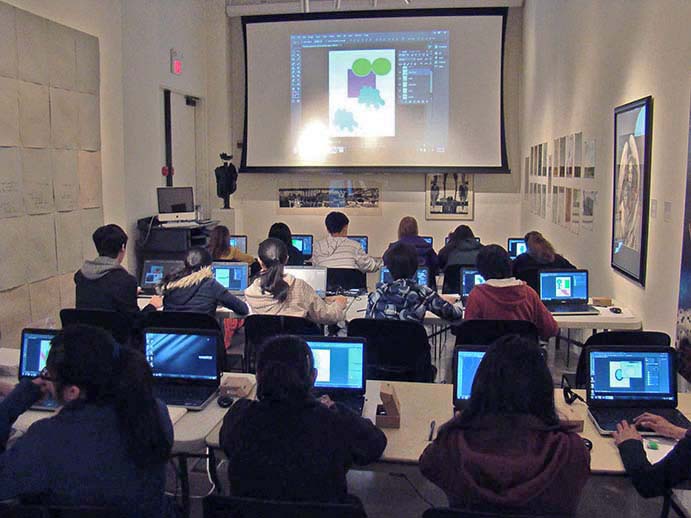 De Anza College, Cupertino, CA, Digital Design Course, 2012

De Anza College, Cupertino, CA, Digital Illustrations, Earth from Above, 2018
De Anza College, Cupertino, CA, Posters and Illustrations, 2018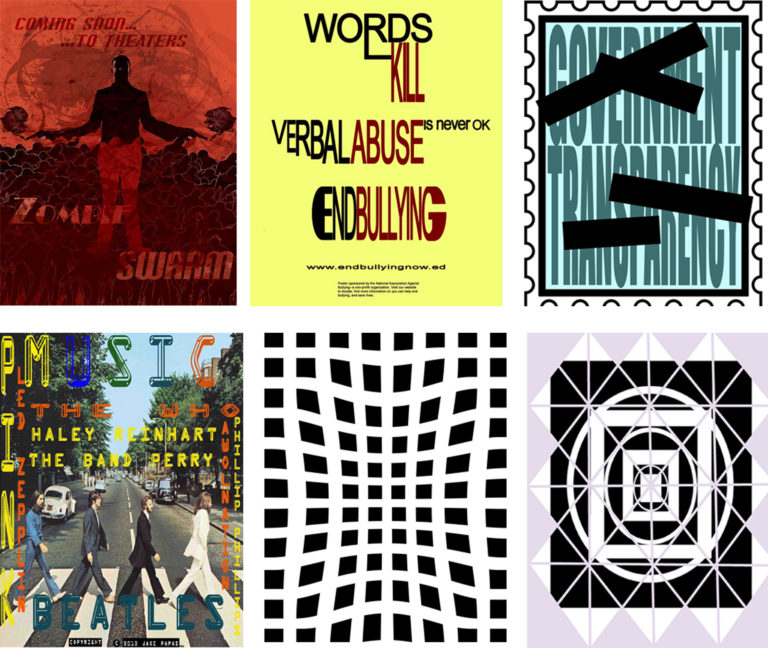 De Anza College, Cupertino, CA, Students' Digital Graphic Design works, 2014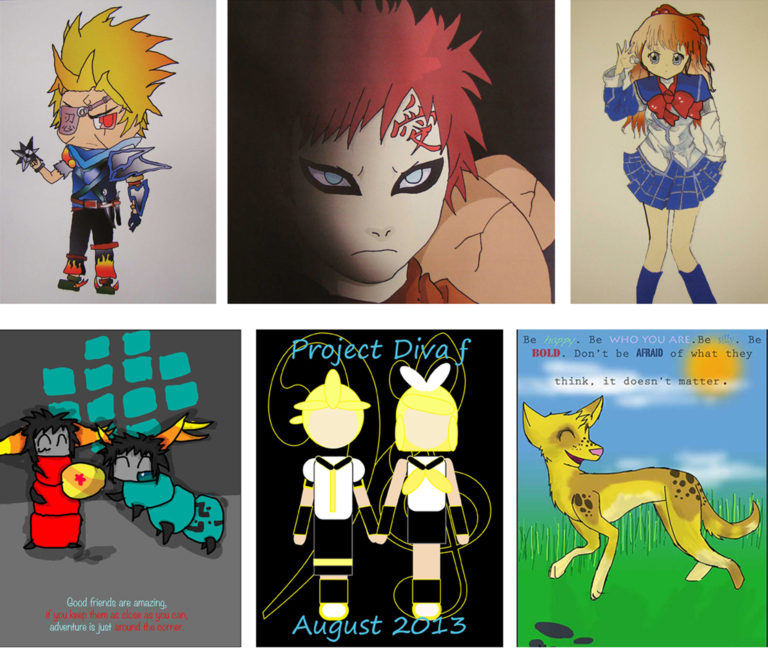 De Anza College, Cupertino, CA, Students' Digital Comic Characters, 2013-2015
De Anza College, Cupertino, CA, Digital Design Course, Comic Book and Digital Painting, 2016