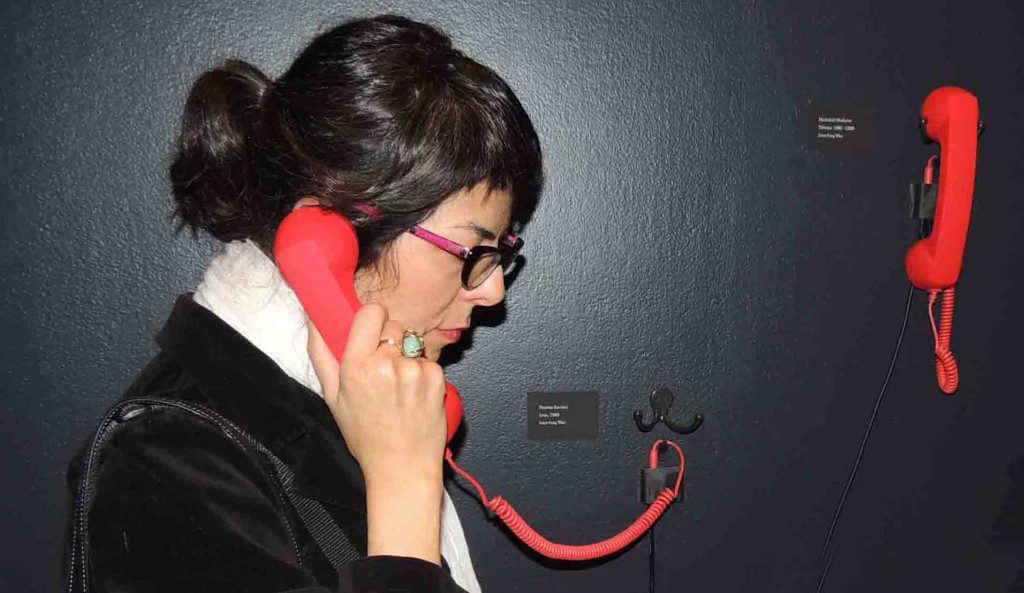 Pantea Karimi, Middle of Nowhere: Locating a Retained Memory, 2013
recorded voice, Yerba Buena Center for the Arts

Email: PanteaKarimiArt [AT] gmail.com
Cell : 408. 799 33 TWO 8
Studio: Cubberley Artist Studios, Palo Alto, CA
Statement
Pantea Karimi works with installation, prints, virtual reality and video projection. She researches visual representations in medieval Persian and Arab and early modern European scientific manuscripts in five categories: mathematics, medicinal botany, anatomy, optics and cartography. Karimi examines how illustrations in ancient scientific manuscripts played a role in communicating knowledge and how the broader aesthetic considerations of science were closely related to art. Her works collectively highlight the significance of visual elements in early science and invite the viewer to observe science and its history through the process of image-making.
Background
Pantea Karimi is a printmaker and painter and also holds a professional degree with work experience in graphic design, all of which have influenced her fine art aesthetic and practice. As a printmaker and painter she is obsessed with form and as a graphic designer, she has always been interested in text, design and layout of books and print media. Her education in graphic design prepared her for both commercial work and academic research. To complete her Master's Degree at the Art University in Tehran, she researched the beginning of print industry in 19th century Iran, including the first newspapers, which were printed from a stone lithographic process. She gathered reproductions of those newspapers and studied their illustrations, layout and design.  She became fascinated by the ways in which text and image complemented one another in novel ways. Print media became increasingly a major source of inspiration to her, both visually and conceptually.  In 2014, she began a new research project which revisited her earlier investigations in the history of Iranian print media. Since then, her work has been an exploration into the pages of medieval and early modern scientific manuscripts.
Bio
Pantea Karimi has lived, studied, and worked in Iran, the UK and the US and presently resides in San Jose, California. She started her training in painting and classical music at age 14, which led to her decision to pursue art professionally. Karimi earned her MFA in printmaking and painting from San Jose State University in 2009. She also holds a Diploma in printmaking and glassworks from Hastings College of Arts and Technology in England in 2004 and an MFA in graphic design from the Art University in Tehran, Iran, in 1999. Karimi's fine arts and graphic works are in public and private collections and have been featured in several publications in Iran, Italy, Croatia, the UK and the United States. Her prints and digital works have been exhibited in diverse solo, group and traveling exhibitions in Iran, Algeria, Germany, Croatia, Mexico, the UK, and the United States, including the de Young Museum and the Yerba Buena Center for the Arts in San Francisco, 2012 ZERO1 Biennial, the Triton Museum in Santa Clara, the Peninsula Museum of Art in Burlingame, the Google Company and the NASA Ames Research Center in Mountain View, the San Jose City Hall, The San Jose Tech Museum of Innovation, the New Bedford Art Museum in Massachusetts, Pikto Gallery in Zagreb, Croatia and Platform in Munich, Germany. Pantea Karimi has given lectures and artist talks in museums and universities including The LASER Talk series (Leonardo Art Science Evening Rendezvous) in the San Francisco Bay Area. Karimi had a Research Residency at The British Library in London in April 2018, where she researched prominent medieval and early modern scientific manuscripts. She is the recipient of the 2016-2017 Kala Fellowship-Residency Award; the 2010 Distinguished Artist Award by the City of Cupertino Fine Arts Commission; the 2011 Multicultural Arts Leadership Initiative Fellowship; and the 2012 School of Arts and Culture Grant. Karimi is a faculty member in the Department of Visual Arts at College of San Mateo and Cabrillo College and maintains a studio in Cubberley Studios in Palo Alto, CA.
CV
Education
2009 Masters of Fine Arts: Printmaking and Painting, with honors, San Jose State University, San Jose, CA
2004 BTEC National Diploma in Art and Design: Printmaking, Painting and Glass, with distinction
Hastings College of Arts and Technology, Hastings, UK
1999 Masters of Design: Graphic Design, Art University, Tehran, Iran
1996 Bachelor of Design: Graphic Design, Al-Zahra University, Tehran, Iran

Public Collection
2018 Kaiser Permanente, San Jose, CA
2018 Pence Gallery, Davis, CA
2017 Ruth Asawa Foundation, San Francisco, CA
2017 Stanford Health Care, Redwood City, CA

Residency and Research

2018  Research, Scientific Manuscripts, The Rotch Library at MIT, Cambridge, MA
2018  Research Residency, Medieval Scientific Manuscripts, The British Library, London, UK
2017  Kala Fellowship-Residency Award, Kala Art Institute, Berkeley, CA
2016  Research, Medieval Scientific Manuscripts, The Malek Library, Tehran, Iran
2013  Teaching Artist Residency, Montalvo Arts Center, Saratoga, CA
Solo Exhibition
2020 The Forgotten Women of Science, San Jose Museum of Quilts & Textiles, San Jose, CA (Jan-March, 2020)
2018 Visual Thinking: Six Ways of Picturing Knowledge, The Rotch Library, MIT, Cambridge, MA (Sep-Dec, 2018)
2017 Blind Spot, a dialogue, Ruth's Table (Ruth Asawa Foundation Center), San Francisco, CA
2016 Punctum Caecum, a visual exploration into the magical world of medieval and early modern scientific manuscripts, California State University Stanislaus, Turlock, CA
2015 Mediated Senses, Google Campus, Building CL5, Mountain View, CA
2014 Mediated Senses, Peninsula Museum of Art, Burlingame, CA 
2010 Mediated Senses, Mohr Gallery, Finn Center, Mountain View, CA 
Two-Person Exhibition
2014 UNNATURAL SELECTION, Mohr Gallery, Finn Center, Mountain View, CA
2013 Disappearance, Art Ark, San Jose, CA
2012 Monotype & Silkscreen, commercial building via Bay Van Gallery, Oakland, CA
1998 Forms and Shadows, Xorshid Gallery, Tehran, Iran
Traveling Exhibition
2017 Vision and Voice: Reflections of Immigrant Artists in California, San Jose & Oakland, CA
Art Ark Gallery & Chandra Cerrito Contemporary
2015 Living with Endangered Languages in the Information Age, Root Division, San Francisco, CA
          Endangered, Euphrat Museum of Art, Cupertino, CA
2012 Mexico-California, A Bridge Beyond Borders: Innovations in Contemporary Printmaking
         Galeria Ajolote Arte Contemporaneo, Guadalajara, Mexico
         Monterey Peninsula College, Monterey, CA
         Cabrillo College, Aptos, CA
Group Exhibition

2018
Connect and Collect, San Jose Institute of Contemporary Art Auction, San Jose, CA
#TimesUp#Metoo#Wesiadenough, JAYJAY Art Gallery, Sacramento, CA 
PRINTSTALLATIONS, San Jose Institute of Contemporary Art, San Jose, CA 
Coming With Care, Euphrat Museum of Art, De Anza College, Cupertino, CA
Trilogy, The 5th L.A.S.T Festival, Stanford Linear Accelerator, Menlo Park, CA
Arousing Biophilia, Art Ark, San Jose, CA
Consilience of Art & Science, Pence Gallery, Davis, CA
Group Exhibition, Jeff King & Co. Design Company, San Francisco, CA
Kala Artists' Annual Exhibition, Kala Art Gallery, Berkeley, CA
2017
Waterlines, New Museum Los Gatos, Los Gatos, CA
Kindness as Resistance, Euphrat Museum of Art, Cupertino, CA
Other Side III, Galerija Pikto, Zagreb, Croatia
Connect and Collect, San Jose Institute of Contemporary Art Auction, San Jose, CA
Earth and Reveries, Fellowship Residency Exhibition, Kala Art Institute Gallery, Berkeley, CA
Retrofit, Telegraph Gallery, San Francisco, CA
Kala Art Auction, Kala Art Institute Gallery, Berkeley, CA
Shelf Garden, The 4th L.A.S.T Festival, San Jose, CA
Revive, NASA Ames Research Center, Mountain View, CA
StARTup Art Fair, Hotel Del Sol, San Francisco, CA
2016
World's Faire 2030, NASA Research Center, Mountain View, CA 
Stateless, University of Massachusetts, Dartmouth, New Bedford, MA
Anne & Mark's Art Party SJ, Santa Clara County Fairgrounds, San Jose, CA
1001 Plates, Shirin Art Gallery, Tehran, Iran
Connect and Collect, San Jose Institute of Contemporary Art Auction, San Jose, CA
Impulse, Arc Gallery, San Francisco, CA
StARTup Art Fair, Hotel Del Sol, San Francisco, CA
2015
Felt Encounters with Past and Present, Inspace Curatorial, San Francisco, CA
Bearing Witness: Surveillance in the Drone Age, Fort Mason, San Francisco, CA
50 and Looking Forward, Triton Museum of Art, Santa Clara, CA
Connect and Collect, San Jose Institute of Contemporary Art Auction, San Jose, CA
SF Bike Coalition Art Auction, Metreon, San Francisco, CA
A Tribute to Mondrian, Land Art Project, Twisted Wish Studio and Ranch, Bonny Doon, Santa Cruz, CA
Artik's 20th Annual Exhibition, Artik, San Jose, CA
2014
Theory of Survival: Fabrications, Night Markets Events, Southern Exposure, San Francisco, CA
No War, Niavaran Art Center, Tehran, Iran
SF Bike Coalition Art Auction, Metreon, San Francisco, CA
Ruth's Table Art Auction, Ruth Asawa Center, San Francisco, CA
Connect and Collect, San Jose Institute of Contemporary Art Auction, San Jose, CA
Anne & Mark's ArtParty SJ, Santa Clara County Fairgrounds, San Jose, CA
Community Matters, San Jose City Hall, San Jose, CA
The Other, Mediterranean Biennale of Contemporary Art of Oran, Algeria
The Chasm Arena, Yerba Buena Art Center, San Francisco, CA
Deep Reading, Euphrat Museum of Art, Cupertino, CA
2013
Creativity, Change, Commitment, Triton Museum, San Jose, CA
SF Bike Coalition Art Auction, Metreon, San Francisco, CA
Our Veterans, San Pablo Art Center, San Pablo, CA
12×12, Cabrillo College Art Gallery, Aptos, CA
Don Quixote, Aun Gallery, Tehran, Iran
Glyph, Art Ark, San Jose, CA
War and Healing, Euphrat Museum of Art, Den Anza College, Cupertino, CA
Exploring Urban Identities in De-Industrialized Cities, New Bedford Art Museum, New Bedford, MA
2012
The Future Imagined: What's Next? 2012 ZERO1 Biennial, The Performance Art Institute, SF, CA
X-Libris, Root Division, San Francisco, CA
NY Beats, Discourse on Art, Politics and Aesthetics: International Occupy Video, PLATFORM, Munich, Germany
La Gran Pachanga Art Auction, 111 Minna Gallery, San Francisco, CA
DYAD, Art Ark, San Jose, CA
Directly indirect, Kriewall-Haehl Gallery, Portola Valley, CA
2011
Caution: Vegetable Garden, Land Art, Willowside Ranch, Pescadero, CA
Summer in the City, Branch Gallery, Oakland, CA
(Political) Love Letters, ArtPad SF in Phoenix Hotel, San Francisco, CA
Spring Group Show, Focus Gallery– Artik, San Jose, CA
Fiesta Night Gala, Triton Museum, Santa Clara, CA
Night Market, Artist Reading Room, Oakland, CA
The Collector's Room, Togonon Gallery, San Francisco, CA
Small and High Quality, Art Ark, San Jose, CA
Visual Territory, Pittsburg State University, Pittsburg, KS
Works on Paper, Community School of Music and Arts Gala Art Auction, Menlo Park, CA
2010
Illusion, Climate Theater Gallery, San Francisco, CA
Mid-Spring Evening Gala, Triton Museum, Santa Clara, CA
Monotype Marathon 2010, Institute of Contemporary Art, San Jose, CA
Works on Paper, Community School of Music and Arts Gala Art Auction, Menlo Park, CA
2009
Traces of Being, Morono Kiang Gallery, Los Angeles, CA
Warhol Now and Then, Wilsey Court, de Young Museum, San Francisco, CA
Lift Off, Institute of Contemporary Art, San Jose, CA
Unseen Unsaid, Climate Theater, San Francisco, CA
Works on Paper, Community School of Music and Arts and Gala Art Auction, Menlo Park, CA
2008
Local Color, Art Ark, San Jose, CA
Works on Paper, Community School of Music and Arts Gala and Art Auction, Menlo Park, CA
Works on Paper, Orchard Commercial ART Space, San Jose, CA
Winter Art Exhibition, Sobrato Center, Milpitas, CA
Art Auction, Works, San Jose, CA
2007
Iranian Alliances Across Borders, Ellipse Arts Center, Arlington, VA
SJSU Art Exhibition, Art Ark, San Jose, CA
2006
San Francisco Open Studios, Gate House, Fort Mason Center, San Francisco, CA
Art On the Wall, SomArts, San Francisco, CA
2001-2003, UK
Visual Art Exhibition, Pier Gallery, Hastings, UK
Challenge the Nail, Salon Des Arts, London, UK
Summer Art Exhibition, New Riviera Gallery, Hastings, UK
Fourteen Annual Conference of the Iranian Women's Studies Foundation, The School of Oriental and African Studies (SOAS), London, UK
Spring Art Exhibition, New Riviera Gallery, Hastings, UK
Human Rain, Lauderdale House, London, UK
Challenge the Nail, Salon Des Arts, London, UK
Visual Art Exhibition, Conquest Hospital Gallery, Hastings, UK
1994-1999, Tehran, Iran
Fifth Annual Exhibition of Iranian Women Artists, Niavaran Art Center
Fourth Annual Exhibition of Iranian Women Artists, Niavaran Art Center
Still Life, Haft Samar Gallery
Third Annual Exhibition of Iranian Women Artists, Niavaran Art Center
Third Annual Exhibition of Graphic Design Works, Museum of Contemporary Art
Honor, Award, Grant
2018  Center for Cultural Innovation Travel Grant, The Courtauld Art Institute Art and Science Conference in London, San Francisco, CA
2017-18  Pre-qualified Artist Pool, The San Francisco Arts Commission's, public art commissions, San Francisco, CA
2012 School of Arts and Culture Grant, Collaborative Community Art Project, San Jose, CA
2011-12 Multicultural Arts Leadership Initiative (MALI) Fellowship, School of Arts and Culture, San Jose, CA (Organizational skills and knowledge, participation in community-wide forums, initiatives and task forces)
2011 Creative Capacity Fund Grant, San Francisco, CA
2010 Distinguished Artist Award, Fine Arts Commission, Cupertino, CA
2010 Creative Capacity Fund Grant, San Francisco, CA
2009 Orchard Commercial North First ArtSPACE Scholarship, San Jose, CA
2009 Nominee: Artshift Award, visual arts, San Jose, CA
2009 Nominee: The Joan Mitchell Foundation MFA Grant, visual arts, San Jose State University, San Jose, CA
2008 Orchard Commercial North First ArtSPACE Award, San Jose, CA
2008 School of Art and Design Teaching Assistant Scholarship, San Jose State University, San Jose, CA
Press

2018 L.A.S.T 2018, Exhibition Catalog, By Joel Slayton and Emily Bright, published by Amazon.com
2018 Printstallations @ San Jose Institute of Contemporary Art, Square Cylinder, Sacramento, CA
2018 Published Article, The Versatile Screenprint: High-Tech Tools &Traditional Forms by Pantea Karimi, The Journal of The California Society of Printmakers, CA
2017  Euphrat Museum's fall exhibit explores kindness and hope, The Mercury News, San Jose, CA
2017 Other Side Project III Comes to Zagreb: Pantea Karimi features her art and rich heritage found in Persian, European and Arab medieval scholarly scientific records, Mojzagreb.info, Zagreb, Croatia
2017 International Exhibition Other Side Project III in Pikto Gallery: Pantea Karimi exhibits the installation of The Garden of Dioscorides, ziher.hr, Zagreb, Croatia
2017 Featured Artist & Selected Artworks, Disquieting Muses Quarterly, online poetry magazine, Berkeley, CA
2016 University Gallery exhibit keeps spotlight on heartbreaking refugee crisis, SouthCoast Today, New Bedford, MA
2016 Art: We're the Center of the Universe!, SF Weekly, San Francisco, CA
2016 The Lux of A Dark Age, Artist Pantea Karimi Discusses Her Punctum Caecum Series, Exhibition Catalog, published by California State University, Stanislaus, Turlock, CA
2015 South Bay Arts: Extinct and Dying Languages the Focus of a New Euphrat Museum of Art Exhibit, Mercury News, Cupertino, CA
2014 The Science of Imagination; Unnatural Selection Exhibition, Pelleh Magazine, Tehran, Iran
2013 Featured Artist & Selected Artworks on the Cover, Red Wheelbarrow Literary Magazine, Cupertino, CA
2013 Don Quixote Group Exhibition; Looking at Artists' Works in Aun Gallery, Honaronline, Tehran, Iran,
2013 Between the Two Worlds, Bahar Newspaper, Tehran, Iran,
2013 The Iranian Don Quixotism, Tandees Contemporary Art Magazine, Tehran, Iran,
2013 Breaking Silence: A Review of War & Healing at the Euphrat Museum of Art, ULTERA: EXTRA, London, UK
2013 Euphrat Museum's latest exhibit coincides with Silicon Valley Reads 2013, Sunnyvale Sun, Sunnyvale, CA
2013 Grit and (faded) Glory: new photography exhibit at NBAM, SouthCoast Today, New Bedford, MA
2013 Who is That (artist)?, ULTERA: EXTRA, London, UK
2012 Artist Pantea Karimi's Political Mad-Libs, Sociecity, San Jose, CA
2012 Art galleries are popping up everywhere in Silicon Valley, San Jose Mercury News, San Jose, CA
2011  Modernity, Sexuality, and Ideology in Iran: The Life and Legacy of Popular Female Artists, Selected Artwork on the Cover, Syracuse University Press, Syracuse, NY
2010 The Artist in a Cyber-World, ARTSHIFT San José, San Jose, CA
2010 Turning Words into Arts Earns Local Artist Top Honors, Cupertino Courier, Cupertino, CA
2010 Visitors at Triton's Gala Watch Artists Create, Santa Clara Weekly, Santa Clara, CA
2009 Iran on My Mind, Exhibition Catalog, Los Angeles, CA
2009 Traces of Being: Iran In The Passage of Memories, Los Angeles Times, Los Angles, CA
2009 The Artists as Nexus, Exhibition Catalog, San Jose, CA
2008 Here Come the Candidates, ARTSHIFT San José, San Jose, CA
2007 Looking at Printmaking/Part II: Exploring a Personal, Political and Psychological History through Printmaking,
ARTSHIFT SanJosé, San Jose, CA
2003 Art of the Week, The Local Rag, Hastings, UK
2001 Iran Rivoluzionarie In Conrnice, Iodonna Speciale Gioielli, Italy
1999 Manifestation of Feeling, a selection of paintings by Iranian female artists, Exhibition Catalog, Tehran, Iran
1997 Manifestation of Feeling, a selection of paintings by Iranian female artists, Exhibition Catalog, Tehran, Iran
1995 Iranian Women Exhibition, Iran Journal, Tehran, Iran
Panel and Artist Talk

2018 Nov, Artist Talk, Medieval Science, San Jose Museum of Art, San Jose, CA
2018 Feb, Artist Talk, Printstallations, San Jose Institute of Contemporary Art, San Jose, CA
2017 Oct, Panel Discussion, Are Art Fairs Right for You, Jennifer Perlmutter Gallery, Lafayette, CA
2017 Sep, Artist Talk, Folding Gardens, Fellowship Residency Exhibition, Kala Art Gallery, Berkeley, CA
2017 Sep, Artist Talk, The Medieval Science and Visual Illustrations, College of San Mateo, San Mateo, CA
2017 July, Artist Talk, (Re) Visualizing Medieval Science, LASER Talk series, USF, San Francisco, CA
2017 May, Artist Talk, (Re) Visualizing Medieval Science, Featured Artist Presentation Series, SAFEhouse Arts, San Francisco, CA
2017 April, Artist Talk, (Re) Visualizing Medieval Science, LASER Talk series, UC Berkeley, CA
2017 April, Artist Talk, (Re) Visualizing Medieval Science, San Jose State University, CA
2016 Mar, Artist Talk, A Creative Conversation with stARTup SF artist Pantea Karimi & StARTup fair co-founders Ray Beldner and Steve Zavattero, Pics Art, San Francisco, CA
2016 Mar, Artist Talk, Punctum Caecum, a visual exploration into the magical world of medieval and early modern scientific manuscripts, California State University, Stanislaus, Turlock, CA
2016 Jan, Artist Talk, Punctum Caecum, a visual exploration into the magical world of medieval and early modern scientific manuscripts, University of Art, Tehran, Iran 
2015 Dec, Panel Discussion, Felt Encounters with Past and Present, Inspace Curatorial, San Francisco, CA
2015 May, Collaborative Panel Discussion, Art, Science and Technology in Dialog, Organizer and Moderator, Cubberley Studio Programs, Palo Alto, CA
2015 Oct, Artist Talk, Punctum Caecum, a visual exploration into the magical world of medieval and early modern scientific manuscripts, Los Altos Library, Los Altos, CA
2015 Mar, Artist Talk, Through Different Eyes, SJSU and Alzahra Photography Collaborative project, Dr. Martin Luther King Jr. Library, San Jose, CA
2014 Sep, Artist Talk, Mediated Senses, Peninsula Museum of Art, Burlingame, CA
2014 Mar, Artist Talk, Contemporary Iranian Art Scene, California State University Stanislaus, Turlock, CA
2013 Sep, Artist Talk, Disappearance, Art Ark, San Jose, CA
2013 Apr, Presenter, 10th Arts In Your Classroom: Professional Development Conference, San Jose, CA
2013 Mar, Artist Talk, War and Healing, De Anza College Auditorium & Euphrat Museum of Art, Cupertino, CA
2013 Feb, Artist Talk, mixed-media prints, Cabrillo College, Aptos, CA
2010 Dec, Artist Talk, monotype and silkscreen, California College of the Arts (CCA), Oakland, CA
2009 Nov, Artist Talk, Postmodernism & Postcolonialism, San Jose State University, San Jose, CA
2009 Oct, Panelist, Traces of Being, Morono Kiang Gallery, Los Angeles, CA
Project and Workshop 
2016 Silkscreen Workshop, Seeing Science through the Lens of Art, in conjunction with Punctum Caecum solo exhibition, California State University, Stanislaus, Turlock, CA
2016 Collage Workshop, Mathematical Patterns, Community School of Music and Arts, Mountain View, CA
2016 Acrylic Painting Workshop, Palo Alto Art Center, CA
2016 Silkscreen Workshop, Bird in the Hand, in conjunction with Bird in the Hand exhibition's opening night, Palo Alto Art Center, CA
2012 Lead Teaching Artist, My Homeland, collaborative art installation, San Jose, Sunnyvale, Mountain View, CA
2011 Co-Lead of Curriculum Development, Slot Shelters, collaborative design project, San Jose, CA
2011 Lead Teaching Artist, We Are Socially Networked, collaborative art installation, Euphrat Museum of Art, Cupertino, CA
2002 Collaborator, Mural, Alan Rankle Fine Art Studio, private residence, London, UK
Teaching Experience, College and University
2018 College of San Mateo, San Mateo, CA: Portfolio Review
2013-present Cabrillo College, Aptos, CA: Design and Color Theory, Drawing, Silkscreening Techniques I&II
2008-present De Anza College, Euphrat Museum of Art, Cupertino, CA: Digital Arts & Design
2010 San Jose State University, Co-Teaching, San Jose, CA: Silkscreening Techniques
2008 San Jose State University, Teaching Associate, San Jose, CA: Two-Dimensional Design Concepts
2009 San Jose State University, Teaching Assistant, San Jose, CA: Color Theory & Beginning Painting
2007 San Jose State University, Teaching Assistant, San Jose, CA: Representational Drawing & Two-Dimensional Design Concepts
Teaching Experience, Art Center and Art Institution
2015-present Palo Alto Art Center, Palo Alto, CA: Silkscreen techniques
2012-2014 Montalvo Arts Center, Saratoga, CA: Digital and Visual Arts
2011-2017 TechShop, San Jose, CA: Textile Silkscreening Techniques
2006-present Community School of Music and Arts, Finn Center, Mountain View, CA: Visual Arts and Workshops
2002-2003 Education Action Zone, Hastings, UK: Internet Applications and Graphics Arts
1993-2001 Art Studio, Tehran, Iran: Visual Arts
Judging Panel, Committee and Board Member
March-May 2015 Committee Member, Student Equity Pilot Program , Cabrillo College, Aptos, CA
2011 Board Member, Artshift San Jose, online arts and culture publication, San Jose, CA
2008 Committee Member, Foundation Courses, Students' Exhibition, San Jose State University, San Jose, CA
2008 Judging Panel, Euphrat Museum of Art, De Anza College Students' Art Exhibition, Cupertino, CA
2007 Judging Panel, San Jose Downtown Doors art project, San Jose, CA
Professional and Graphic Design Experience
2009 Graphic Designer and Art Director, San Jose State University, San Jose, CA: the 2009 issue of Lift Off, a 72- page Masters of Fine Arts exhibition catalog
2006 Graphic Designer, MIT, Cambridge, MA: thresholds 32: ACCESS, fall 2006 issue, a 120- page bi- annual critical journal of architecture, art, media and culture at MIT
2006 Program Specialist, Children's Discovery Museum, San Jose, CA: Responsible for facilitating programmatic activities and educational projects in the Art Studio and the Art Loft
2001-2003 Artist Assistant and Studio Manager, Alan Rankle Fine Art Studio, Hastings, UK: Murals, large format easel paintings, studio and project management, gallery administration
1998-2001 Graphic Designer, Tehran, Iran: logo, catalog, poster, packaging and brochure at Bamdad Emruz Advertising Agency, Arc Design, Bolour Shisheh and Savveh Jaam Glassware Manufacturing
Volunteer Experience
2001-2002 Volunteer Art Studio Assistant, Conquest Hospital, Children Ward's Art Studio, Hastings, UK
1995-1997 Musician and Music Instructor: classical guitar, xylophone and flute recorder, Orff Music Institute, Tehran, Iran                   

Certificates
Artists Teach Arts (comprehensive upper level course), San Jose State University, San Jose, CA
CA CBEST Certificate, San Jose, CA
English for Business Certificate, Hastings College of English Language, UK
Fine Arts Skills

Painting




Watercolor, acrylic, oil, and gouache

Drawing
Charcoal, pencil, pastel, color-pencil, and collage
Glass
Illustration & Fusing techniques, collage, and use of kiln
Printmaking
Intaglio (hard-ground, sugar-lift, aquatint, spit-bite and two-plates)


Silkscreen (monotype, mixed media, textile, halftone CMYK process, autographic, photomontage, vinyl and paper stencils )




Monotype (viscosity printing, dry transfer, counter print & photo transfer)




Wood-cut and Linocut
Graphics Applications
Adobe




Illustrator, Photoshop, In-design, After Effects, Premier Elements 10

Microsoft




Word, Power Point, Excel
Gallery

Representation

 and Membership
Aun Gallery, Tehran, Iran (2013-2016)
Togonon Gallery, Geary St. SF (2011-2013)

Aftab Committee, Washington, D.C., Pantea Karimi
Saatchiart/PanteaKarimi: Saatchi Art Online


Kala Art Institute, Berkeley, CA

San Jose Institute of Contemporary Art, San Jose, CA

San Francisco Museum of Art, San Francisco, CA

de Young Museum, San Francisco, CA

Legion of Honor, The Fine Arts Museum, San Francisco, CA